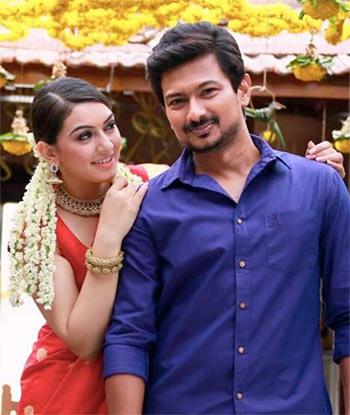 The Tamil version does not boast of strong characters, feels S Saraswathi.
Director I Ahmed's Manithan, starring Udhayanidhi Stalin and Hansika Motwani, is the remake of the National award-winning courtroom comedy drama, Jolly LLB.
Inspired from the 1999 hit-and-run case of Sanjeev Nanda, the film was a critical and commercial success.
Jolly LLB's perfect cast -- Arshad Warsi, Boman Irani and Saurabh Shukla -- was one of the biggest strengths of the film.
Unfortunately, except for Prakash Raj, who plays Boman Irani's role, the Tamil version does not boast of strong characters.
Arshad Warsi's natural spontaneity and affability added to his character, making him far more real than Udhayanidhi Stalin's stilted performance as Shakti, a struggling lawyer in the film.
Though he shares great chemistry with Hansika, who plays his uncle's daughter Priya, he seems emotionally untouched with all the drama unfolding around him.
Shakti's inept arguing skills and lack of guile often makes him a butt of jokes in the courtroom and Priya is frustrated with his ridiculous antics. To prove himself, Shakti decides to leave his hometown Pollachi and move to Chennai.
Things are no different in the city, and the narrative continues to drag until Shakti unwittingly involves himself in a hit-and-run case fought and won by one of the biggest and most influential lawyers in the country, Adiseshan (Prakash Raj).
The client, a multimillionaire, is responsible for killing six homeless laborers sleeping on the pavement in a drunken stupor, and the corrupt, all-powerful Adiseshan will do whatever it takes to win the case.
The second half of the film is all about how the inexperienced Shakti beats the master at his own game.
Humour underlies almost in every scene and thanks to the efforts of comedy actor Vivek, who also plays a lawyer and veteran actor Radha Ravi, who reprises the role of Saurabh Shukla from the original, there are plenty of fun moments.
But the irrational drama in the court, not helped by Udhayanidhi Stalin's uninspiring performance, barely holds your attention.
He does manage to rouse himself sufficiently in the climax to give some credibility to the screenplay that attempts to seek justice for the poor and homeless, who are crushed beneath the wheels of wealth, power and corruption.
Santhosh Narayanan's musical score is brilliant and attempts to tell the painful tale all on its own, but the drab visuals and the unconvincing characters seem totally out of sync with the music.
Hansika, in her deglamorized avatar, looks just as pretty and Kakka Muttai fame Aishwarya Rajesh, who plays a news anchor in the film, gives a neat performance.
Overall, director Ahmed's Manithan is a rather ordinary remake of a brilliant film.
Rediff Rating: