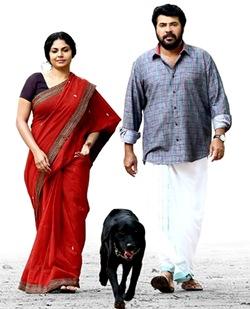 Varsham carries the stamp of Ranjith Sankar which is enhanced by Mammootty's presence, says Paresh C Palicha.
There is an intrinsic goodness in every human being. It takes just one event in a person's life to make him turn a new leaf.
Director Ranjith Sankar weaves a tale around this theme in Varsham, starring Mammootty and Asha Sarath.
Venu (Mammootty) runs a small finance and gold loan company, which is called a blade bank in local parlance. The company is in the name of his teenage son Anand (Prajwal Prasad).
Venu is a self made man. He is a cocky businessman for whom the line between right and wrong is blurred. His wife Nandini (Asha Sarath) shares similar characteristics.
She wants her son to be good in everything that her neighbour's son does. The husband and wife keep fighting, but they have a common dream for their son: that he should become a doctor.
The director, who has also written the script, takes time to set up the milieu. The aspirations of a newly-rich nuclear family and their eagerness to show that they are upwardly mobile, gives the feel of a Sathyan Anthikkad film.
Venu and Nandini's world falls apart when their son dies. But Venu resurrects his life with the aim of a greater common good in mind.
Ranjith Sankar has made a name for himself by delivering a social message through his films.
This time he trains his guns on the blade banks or non-banking financial companies that fleece the common man by lending money at an exorbitant rate of interest and taking families to the brink of suicide.
The whole of the second half is devoted to this. We see Venu fighting a lone battle against the big fish in his effort to do business ethically and wholeheartedly.
Mammootty's transition from jovial hard-nosed businessman to a wrecked father is heart-wrenching.
Asha Sarath plays a supporting role here. She seems to be underused when compared to Mammootty's towering presence.
Mamta Mohandas as Dr Jayshree, who helps Venu find his way back in life after his son's death, makes her presence felt.
Sunil Sukhada as the funny neighbour running a Laughing Club sounds repetitive. Sudheer Karamana makes an impact in a couple of scenes as Anand's school principal.
Varsham carries the stamp of Ranjith Sankar which is enhanced by Mammootty's presence.
Rediff Rating: