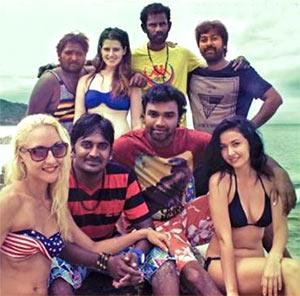 Director Don Sandy's Mahabalipuram is an attempt to shed light on the plight of young girls who are drugged, raped and filmed in order to cater to the thriving porn industry, says S Saraswathi.
Debutant director Don Sandy's Mahabalipuram features an ensemble cast of Vinayak, Karunakaran, Ramesh Thilak, Karthik Sabesh, Vetri, Vithika Sheru and Angana Roy.
The film brings to light the plight of young girls, who are drugged, raped and filmed in order to cater to the thriving porn industry.
What makes these crimes even more horrific is that it is often friends, lovers and people they trust that are involved.
Unfortunately, the subject is dealt with rather lightly, with no depth or intensity in portraying the angst of the victims.
Mahabalipuram, one of the most important tourist attractions in Chennai, is the focus of the story.
The film is inspired by real life events published in newspapers and is shot from the perspective of the local tourist guides.
The tale begins on a happy note. Sathish (Vetri) is getting married to his lover Sangeetha (Angana) with the support of his best friends, Panja (Vinayak, who is also the producer of the film), Kuppan (Ramesh), Samy (Karthik Sabesh) and Othakada (Karunakaran).
Though they have married without the approval of their parents, the couple is content with their love for each other and the support of their friends.
Almost the entire first half of the film is dedicated to bringing out this fun and easy relationship between them.
Just when you begin to tire of their excessive bonding, the film takes on a more serious note.
After an evening of heavy drinking, the five friends sit down to watch some porn. To their great shock, Sangeetha features in one of the films.
A distraught Sangeetha commits suicide, while an unfortunate accident kills Sathish.
The friends are totally clueless about what is happening around them.
Panja, who considers Sangeetha his sister, is the most affected. The second half shifts focus to Panja's love story and the mystery is unravelled almost as an afterthought towards the very end.
The unexpected twist in the climax and the voice-over by veteran actor Sathyraj during the closing credits explaining the modus operandi of these deceivers is interesting.
All the characters have been well cast. Their easy banter and camaraderie provide some laughs. Ramesh Thilak deserves a special mention.
Though the story line is interesting, the real issue seems to be lost in the poorly-written script.
The director has chosen not to linger on any unpleasantness; the victims and their emotional turmoil are conveniently ignored. He seems satisfied with just skimming over the surface of this extremely gruesome crime, making the film rather shallow.
But with a running time of less than two hours, with some enjoyable music by composer K,and good performances, Mahabalipuram is a decent attempt.
Rediff Rating: