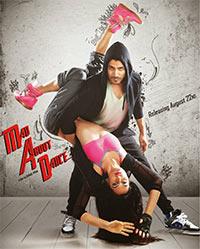 The film leaves much to be desired, writes Nishi Tiwari.
The Wikipedia entry of Sahil Prem's dance movie Mad About Dance describes the film as 'Essentially a dance film, it focuses on the youth, their dreams, anxieties, disappointments and hopes for their future.'
And while on a superficial level that may be true, the film unfortunately leaves much to be desired.
Written and directed by Prem, the film also stars him, alongside the beautiful Amrit Maghera, in the lead role.
This is clearly a passion project since Prem dons so many hats in it -- he also composed most of the music, along with Dr Zeus -- but the focus inadvertently shifts towards the more inconsequential aspects of the film as it progresses.
Let me start from the beginning.
The film opens with Prem sitting in a bank office as he waits for his loan to be approved. He wants to found a dancing crew that can represent India in the vaguely named National Dance Competition.
But what strikes you in the whole setting is not the anticipation he should be feeling before such an important meeting, or his striking face, or even the ambiguity of his surroundings.
It's his gorgeous head of curly hair that he has tied up in a high bunch.
As we go deeper in the story, I find myself weaving brighter possibilities for his hair -- what would it look like if he tied it slightly lower?
Is it just me or does he really look exactly like Farhan Akhtar (in his rocker days) in Rock On!!?
Most importantly, why did nature give him this invaluable gift of gorgeous mane when he does it them the great disservice of wearing them ever so nonchalantly?
But I digress.
When the bank people express their reservations for granting a loan for Aarav's (Prem) sketchy proposition (surprise surprise!), he goes into flashback to show that he has a point.
Only it's difficult to decipher the purpose of this flashback (that constitutes about 97 per cent of the film) because it's a bit of a garbled mess.
Out in Sheffield, UK, on the pretext of procuring an MBA degree, Aarav is on the lookout of his dancing idol Ceasar.
During his quest, he makes some friends (all Indians, of course). The group of four fulfils the accepted Hindi movie template too -- there's a large-hearted-meets-slightly-douchey Punjabi rich kid, a sincere and hard-working student who's saving up to be able to pay the exorbitant MBA fees and a brainiac South Indian.
After two failed attempts to impress Ceasar -- Aarav wants to join his dance crew -- he decides to participate in the ultimate dance off in the city and almost wins it. If the story has piqued your interest so far, go catch a show and find out how it ends.
If it hasn't, you aren't missing much for Mad About Dance is hardly a pathbreaking film in its genre.
While the music and dance routines only come alive towards the end of the movie (in its defence though, street style -- the dance form that is predominant in the film but hasn't been identified -- is not really a crowd puller in India).
What further pulls the film down is the forced usage of hackneyed, and totally half-baked in this case, themes of dysfunctional families, racism, existential crisis and overbearing jingoism.
All said and done though, if you love dancing and have an ear for British-Punjabi music, watch this movie solely for the extended dance-off towards the end when Dr Zeus makes an appearance too.
Rediff Rating: