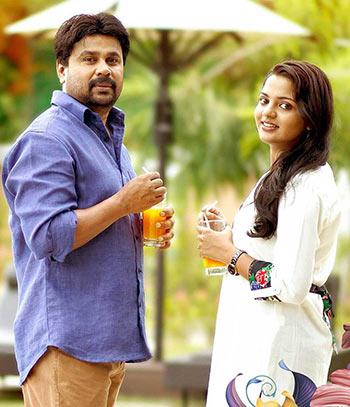 Love 24x7 is a promising debut by Sreebala K Menon, writes Paresh C Palicha.
Writer-director Sreebala K Menon attempts to do something different in her first feature film, Love 24x7.
Here, two adults start liking each other and they discuss how to take their relationship forward. Do they like each other enough to make a commitment to spend their entire lives together?
The backdrop of this story is a television news channel, and the director presents the inner workings of a newsroom in a lighthearted way. She weaves a love story into the narrative as seamlessly as possible.
Roopesh Nambiar (Dileep) is the face of the channel but he remains casual about it.
When a trainee Kabani (Nikhila Vimal) comes in, he rags her at first. Slowly, romance brews between them.
There are other subplots in the film.
Dr Sarayu (Suhasini) is a friend of Roopesh's mother and his local guardian of sorts. She was widowed at a young age and had to bring up her son single-handedly. Her son has now migrated to the US and has a family of his own.
She takes Kabani under her wings, and the wisdom she imparts to Kabani (without being preachy) is immense. Her early widowhood, leading a companionless life and then the revival of romance of her youth with her college mate (played by Sasikumar) changes Kabani, and makes her ask her mother if she wishes to have a companion.
All this makes Love 24x7 a few notches above the typical films that only target box office love.
Even Dileep's histrionic instincts of going over the top are curbed, yet he seems to be comfortable in the skin of Roopesh Nambiar.
Nikhila Vimal seems to be worthy of the confidence reposed in her by the director.
Suhasini is her charming throughout but the guitar in her hand when she is singing Chura Liya seems to be too big for her comfort.
Sasikumar's aristocratic presence adds depth to the proceedings.
Sreenivasan is unduly subdued without his brand of self-deprecatory humour.
Love 24x7 is quite a promising debut by Sreebala K Menon.
Rediff Rating: