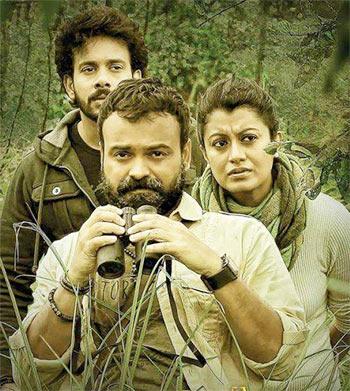 Lord Livingstone 7000 Kandi is a tiring watch, warns Paresh C Palicha.
We have seen many variants of the David v/s Goliath story and Anil Radhakrishnan Menon's latest venture Lord Livingstone 7000 Kandi joins the list.
Nature-loving David takes on a Goliath kind of multi-national corporation, which is hell bent on shaving off hectares of forest land and looting the resources there.
This premise holds a lot of promise but interest starts to wane once the story unfolds.
Environmentalist Philipose John Varkey (Kunchacko Boban) sends letters to random people, inviting them to spend a few days in the wild with him, and help him save the jungles from destruction. Six respond to his invite, and reach the place mentioned in the letter.
CKAK Menon (Nedumudi Venu) is a retired IAS officer, who is living out his life in an old age home.
Professor Neelakandan (Chemban Vinod Jose, with an unkempt wig and ponytail) is a Zoology professor, who has a PhD in animal excreta and cannot have a conversation without mentioning favourite subject.
Madhumita (Reenu Mathews) is a gun-testing expert.
Shanmughan Ilangovan (Bharath) is an adventure junkie and an outdoor person, who has been afflicted with the same ailment that renowned astrophysicist Stephen Hawkings has. He has been given six months to survive by the medical professionals.
Ananthakrishnan Iyer (Jacob Gregory) is a chemical engineer, who is doing research on plants responding to human thoughts.
Beeran (Sunny Wayne) is a street magician.
They walk for days in the jungle with the help of a guide Malavedan (Sudheer Karamana) to reach Philipose.
The trek though the visually enticing forest tests one's patience as we wait for the actual film to begin after the protagonist's appearance.
We soon learn about their task -- there is an ancient tribal village in the middle of the thick forest, which is self-sustained and has no contact with the outside world. This village's existence is under threat as Lord Livingstone Corporation, which has the lease of the jungle, has discovered rich deposits of minerals in the area and are clearing the area for this bounty.
So Philopose calls upon this team to help him rescue this heritage and the greenery by putting their expertise to use. What happens next is so unbelievable and outlandish that it will leave you numb.
One is reminded of the climax of Chathikkatha Chanthu (2004), where a film unit uses the props and techniques used in horror films to save the life of a rich heiress from her greedy relatives.
Another outlandish thing that happens is that Shanmughan's ailment is cured by the witch doctor of the tribe!
Lord Livingstone 7000 Kandi is a tiring and disappointing watch.
Rediff Rating: