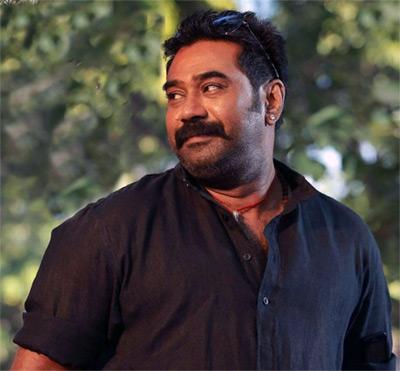 Leela may carry the buzz that it deals with a controversial subject, but there is nothing objectionable in the film, says Paresh C Palicha.
Director Ranjith had announced Leela, based on a short story by Unni R, a long time ago and the names of many actors made the rounds to play the main lead: a complex character named Kuttiyappan.
But the project took off the ground only recently with Biju Menon, who has created a niche for himself by playing the comic second lead.
It seemed to be a curious choice as the story on which it is based is of a serious nature and provided very little cinematic scope.
Then the trailers came out, which gave us the impression that it is more of a Biju Menon film than a one inspired by Unni's story or a film directed by Ranjith.
Kuttiyappan (Biju Menon) makes an entry on a horseback with a cowboy hat and the other paraphernalia, in the town centre in the middle of the night. This ingenious choice of transport is to avoid blowing into the breath analyser. It sets the tone for things to come.
Kuttiyappan is a scion of a rich plantation family of Kottayam. He is single and can throw wads of notes to get whatever he wants.
He has an ageing lady as domestic help and Pillechan (Vijayaraghavan) as his mate. He is a typical hero who looks lecherous from outside but has a golden heart inside.
He does not take advantage of women, who are compelled to enter the flesh trade. He even finds a respectable job for such women.
The story revolves around Kuttiyappan wanting to fulfill one of his sexual fantasies that involves an elephant. For this, he goes in a search of an elephant owner who would spare an elephant for an hour or so. He would also need a courageous lady to accompany him near the animal, lean on to its tusk and engage in an act of love with our man.
Such a scenario can be crisply explained in a short story but in cinema, to be acceptable to a wider audience, it has to be told sensitively.
Every second line that Biju Menon utters is laced with humour, and he has an opinion on everything, be it politics, religion or the dignity deserved to sex workers, the true socialists in his opinion.
Kuttiyappan is new-gen feudal Themmadi, not as harsh as the original one, Mangalassery Neelakantan created by Ranjith himself for Devasuram (1993). He roams around in shorts and sleeveless vests when he is at home, has tattooed biceps, and yet does not let us forget that we are watching Biju Menon -- the trademark one-liners keep coming thick and fast.
Vijayaraghavan is the hunchbacked, ageing mate of Kuttiyappan and he does impress us. His father was the caretaker of Kuttiyappan's household and his wife accuses him of carrying on with that servility even in this generation.
Jagadeesh surprises by taking up a cameo that we could never imagine he would be fit in.
The actresses make fleeting appearances as if they are punctuation marks amidst sentences, telling us that things would have been messier if they were absent from the scene.
But Parvathy Nambiar donning the title role and Pillechan's wife played by Parvathy Sr leave an impression.
Leela may carry the buzz that it deals with a controversial subject, but there is nothing objectionable in the film.
So, you can safely say that Leela is not an adaptation of a bold story by Unni R or even a piece of Ranjith's cinema, but just a film catering to Biju Menon fans.
Rediff Rating: