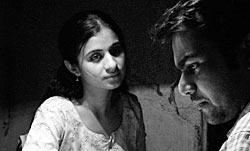 Kshay has picked up quite a few awards at international film festivals. Yet, it saw a very limited release in India last week. Aseem Chhabra appeals to every filmgoer, who cares for good cinema, to watch this beautiful movie and support its kind.

Karan Gour is an audacious filmmaker.

At a time when Hindi cinema is defined by humongous hits like Rowdy Rathore and last week's new release -- the good intentioned, but manipulative Ferrari Ki Sawaari, and the conversation about independent cinema has been taken over by young masters like Dibakar Banerjee and Anurag Kashyap, Gour has the audacity to make a black and white film called Kshay, with unknown faces, centered around a woman's obsession. 

To top that, Gour not only wrote the gripping film -- shining in its true independent spirit -- he also edited it, scored it with Siddhartha Bhatia and co-produced it with Shaan Vyas.
That Kshay got made is remarkable. That it got released in India is even more remarkable. But it is a very telling statement about the current state of filmmaking and distribution that Kshay was released on Friday on only four screens in all of India -- two in Mumbai, one in Delhi and one in Gurgaon.
There is something very wrong with this situation. I know for certain that in a country of 1.2 billion, there are enough educated and discerning people -- in large cities and elsewhere, who are interested in good engaging storytelling, whether it is a strong novel, a play, a television serial or a psychological thriller like Kshay.  It is very unfortunate that even with an audience, films like Kshay have such a small, limited release.
India's new cinema is making the rounds of major film festivals. Kshay played in four festivals including last year's Dubai International Film Festival. It won awards and critical praise by western critics. 
But back home in India, hardly any distributor or exhibitor wants to take the risk to break from the traditional methods of releasing films and supporting very small productions like Kshay. I do commend those who put their faith in this film. There is a special place reserved for them in heaven!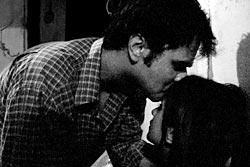 Kshay's plot is simple, yet highly original. The film focuses on Chhaya (a winning performance by Rasika Dugal), a bored housewife, coping with the sadness of a miscarriage and essentially taking care of her stressed out, but caring husband Arvind (Alekh Sangal). Then one day Chhaya quite by chance walks into a small shop selling statues of Hindu deities. She is drawn to the large incomplete statue of Goddess Laksmi. 
The statue becomes an obsession, even as she knows her husband will not be able to afford it. This coupled with a small piece of news from her neighbour Shruti (Nikita Anand) convinces her that the Lakshmi statue will ensure that she will be able to conceive another child.
Much of Kshay explores Chhaya's psychological decline, but the film is so engaging that it is hard to take one's eyes off the screen. There is a gun, blood, violence, disturbing imagery, a tragedy, but Kshay manages to stay above the standard thrillers. 
Gour's script translated into a 92 minute film, takes many surprise twists and it is always one step ahead of the audience.
Dugal is a terrific, natural actress. Her face glows in the first half of the film and so her descent and near mental breakdown is frightening to watch. Sangal is very likeable as a young husband, who is pushed to the extreme by his love for his wife and her relentless pursuit to acquire the Lakshmi statue.
Kshay is beautifully shot by Abhinay Khoparzi. The black and white tones give Kshay a particular quality that enables the plot to unfold in a hypnotic mood. All of it is aided by Gour's and Bhatia's haunting score -- powerful western sounds that never become overbearing and are used very maturely to narrate an Indian story.
Kshay's independent quality -- especially its mood and texture -- reminded me of Darren Aronofsky's first feature Pi. That film became a cult classic and Aronofsky went on to become an Oscar nominated director. 
I do not know where Gour's career will go. But I can definitely say that Kshay is a very satisfying film and it needs the support of every filmgoer who cares for good cinema.
Rediff Rating: