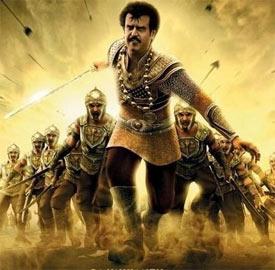 The music of Kochadaiiyaan reflects the kind of film it is. One can't expect the kind of soundtrack that had made Sivaji and Endhiran/Robot such massive musical hits, considering that this one isn't set in current times, says Joginder Tuteja.
The music for Kochadaiiyaan, the dubbed-in-Hindi version of the Tamil film of the same name, is powered by the legendary A R Rahman.
The album starts on a euphoric note with Aye Jawaan, one of the better songs in the film. It has good energy and Rahman, who has also sung this song, keeps the pitch and scale high.

He is supported well by his sister, A R Raihanah, who has a unique voice that remains with the listener. She begins and concludes this near seven-minute number.

The surprise is Arijit Singh. Though he features regularly in the credits of practically every A-Grade Bollywood film, one didn't expect him to make inroads into the Rahman studio so soon.

He sings the romantic Dilchaspiya. This one could well have entered the Tamil zone due to its stage and setting but, courtesy Arijit's rendition, has a ghazal flavour.

Further weight is added by YouTube sensation Jonita Gandhi who impresses yet again.

Javed Ali sings Bol De, which has a chorus effect created around his voice. The six-minute piece promises to make a good impression when heard and seen in the film's context.

Vaada Vaada, which follows, is an average number. The tune is commonplace, the lyrics sound dated by 20 years and Shashaa Tirupati renders it in South Indian classical style. None of it will endear the song to the Hindi film music lover.

Surprisingly, the song is also repeated in a male version by Karthik. Was that to get the listener to warm up to the tune? Well, it doesn't work as one gives this version a quick skip as well.

The album dips further with Mera Gham, despite Shreya Ghoshal's presence. Set in the semi-classical style, it tries to bring in the flavour of Hai Raama (from Rangeela) in a setting and mood that is sad.

It fails to engage the listener and Javed Ali's entrance doesn't elevate this number.

Some element of euphoria is back, albeit intermittently, with Thandav. One hears the cry of Kochadaiiyaan right at the beginning of the song. There is a quintessential South sound to it, better suited to a Tamil audience.

The London Sessions Orchestra brings Rana's Dream which indeed has a dreamy feel to it.
Rahman's distinct touch is apparent; one can visualise him coming together with his set of artists in a live setting while putting together this musical piece. This one is consistent right through its four-minute duration; it also has an international sound.

Raghav Mathur is the voice of Aaya Khwaab Ka Mausam which ends the album on the same note as it had started with Aye Jawaan.

The song has the 'grand orchestra' sound, with the singing sounding a little Westernised when a more Indian flavour would have made an even better impact.

But the overall sound achieved by Rahman ensures that Aaya Khwaab Ka Mausam concludes the album on a high note.

The music of Kochadaiiyaan fits in with the kind of film it is. One can't expect the kind of soundtrack that had made Sivaji and Endhiran/Robot such massive musical hits, considering that this one isn't set in current times.

Rediff Rating: