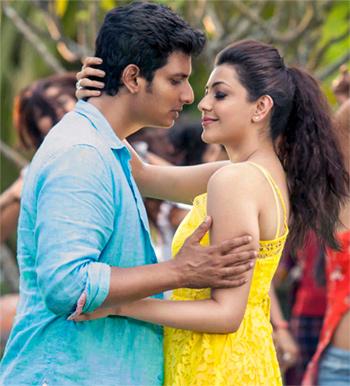 Kavalai Vendam may not be high on logic, but watch it for its wacky moments and mindless entertainment, says S Saraswathi.
After the hilarious horror comedy Yaamirukka Bayamey, director Deekay returns with his second collaboration with producer Elred Kumar.
Titled Kavalai Vendam (Don't worry), the film is a complete laugh riot starring Jiiva and Kajal Aggarwal, supported by a whole bunch of comedy actors like RJ Balaji, Mayilsamy and Balasaravanan.
The film takes on love, relationships and second chances.
Aravind (Jiiva) and Divya (Kajal) are childhood sweethearts. They get married but are separated on the very day by a childish fight.
Three years later, Divya has someone else in her life: Arjun (Bobby Simha). Rich, well-settled and a perfect gentleman, Arjun is the complete opposite of the brash Aravind.
Divya and Arjun want to get married but there is a hitch. Divya is still married to Aravind. She wants a divorce but Aravid is still in love with her.
He agrees to give her the divorce on the condition that they stay together as husband and wife for at least seven days. Divya agrees. Whether they get back together or go their separate ways forms the rest of the story.
It is not this cliché plot or predictable climax that keeps you entertained but the director's delightful treatment of the screenplay. There is not a single dull moment with the characters finding themselves in one hilarious situation after the other.
Jiiva seems like the perfect choice for the role, being effortlessly flippant, funny and intensely emotional.
Kajal looks as pretty as a picture and gives a good performance.
But it is RJ Balaji, as Jiiva's friend, who steals the show with his dialogue delivery and wonderful sense of humour.
Bobby Simha and Sunaina, who plays a friend in love with Aravind, have been sidelined.
Technically, the film scores on all points.
Set amidst the spectacular landscapes of the hill station of Coonoor, every scene is a visual treat. Full credit goes to the brilliant camerawork by cinematographer Abinandhan Ramanujam.
Beautifully picturized soulful melodies are seamlessly placed without intruding on the narrative and the excellent background score by Leon James is a big plus.
But the film is not without its share of negatives. The director has been unable to strike a balance between sentiments and comedy. Emotions are dealt with rather flippantly and some double-meaning dialogues end up being not so amusing.
Nevertheless, the film is a whole lot of fun with some great music, stunning visuals and good performances.
Director Deekay's Kavalai Vendam may not be high on logic but watch it for its wacky moments and mindless entertainment.
Rediff Rating: