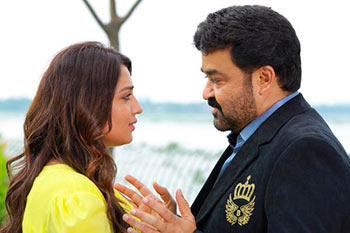 Kanal turns out to be an average effort even though Mohanlal does his best to salvage it, says Paresh C Palicha.
'Every end has an old beginning,' says the tagline of Mohanlal's new film Kanal, directed by M Padmakumar. The question is: Does it have anything else to keep the viewer interested?
S Suresh Babu's script tackles the economic meltdown in the Gulf countries and how it affects Malayalees working there.
After a brief introduction to some victims of the recession, the story moves a few years ahead where we find a nomadic John David (Mohanlal) travelling in the second class compartment of a train.
He speaks incessantly, complains about the food in the train, seems as if he has lost his mental balance. He behaves as if he knows every passenger in the compartment and tries to strike a conversation with them.
The story moves back and forth in time and brings in a plethora of characters, who push the narrative forward in a disjointed manner.
There is one Anantharaman (Anoop Menon), who had started the first Malayalam news channel in the region and was very successful until the recession made him pauper overnight. He was running away from the blade mafia, and his marriage was falling apart.
John quotes Osho trying to bring solace to his fellow traveller.
The train stops, and they continue the journey by truck. John tells Anantharaman to accompany him to Karwar to meet the hotel baron Raghu Hilltop (Prathap Pothen), who is planning to build a resort in the region. Anantharaman had to pretend to be John's associate while he himself pretends to be an architect.
After a sudden turn of events, Anantharaman wants to run away but John does not let him go.
This film is made in a technically slipshod manner. It is the actors -- led by Mohanlal -- who strive hard to hold it together and almost succeed making it a decent watch.
Mohanlal gives an effortless performance of a jovial man, who turns into a barbarian by the half time.
Anoop Menon tries hard to match Mohanlal's calibre by being grumpy.
Other performers like Prathap Pothen and Atul Kulkarni do not get enough screen time to display their talent, but still make an impact.
Kanal turns out to be an average effort even though Mohanlal does his best to salvage it.
Rediff Rating: