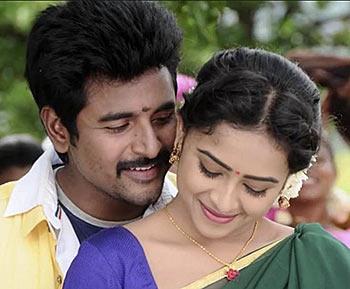 A decently paced, well scripted film with plenty of humour and great music makes Sivakarthikeyan's Kaaki Sattai worth a watch, writes S Saraswathi.
The Ethir Neechal team has come together for yet another breezy entertainer, titled Kaaki Sattai.
Produced by Dhanush's Wunderbar Productions, the film is directed by R S Durai Senthilkumar with Sivakarthikeyan in the lead.
As the title suggests, Kaaki Sattai is about the power of the khaki uniform.
It's an enjoyable tale of a zealous police constable determined to take on the might of the corrupt system.
Mathimaran (Sivakarthikeyan) is a lowly police constable at a station headed by Inspector Sathyamurthi (Prabhu).
Mathi is disgusted with the compromises his seniors, including Sathyamurthi, make due to pressure from the commissioner and the ministers.
Divya (Sri Divya) is a nurse who comes into his life. We are treated to some beautiful well-picturised songs and some amazing dance moves by Sivakarthikeyan.
There is the usual comedy as Mathi woos his love, with advice from another friend, constable Samarasam (Imman Annachi).
Matters turn grave when Mathi's friend, a young tea seller dies and Mathi accidentally stumbles upon an illegal organ trafficking ring, masterminded by Durai (Vijay Raaz), a ruthless criminal with powerful connections.
Mathi realises that the hospital Divya works in is the centre of the illegal activity. But can he prove it?
The second half is a refreshing battle of wits between the crafty Durai and the hapless Mathi.
Thankfully, Mathi does not miraculously transform into an invincible one-man army, destroying everything in his path.
There are no endless fight sequences or highly dramatic stunts by the actor.
This is more of a team effort. The director has successfully managed to integrate the many supporting characters into the narrative.
Veteran actor Prabhu has a significant role and so does Imman Annachi.
Sri Divya plays her part well.
Vijay Raaz as Durai makes a worthy opponent, but lip-sync issues take away some of the fun.
There is no denying that Sivakarthikeyan's comic timing is impeccable, evoking spontaneous laughter at his satirical remarks. But he does seem rather uncomfortable with all the stylish action that is inevitable when the hero dons a khaki uniform.
Anirudh Ravichander's high-octane background score adds to the fun and action, and is one of the highlights of the film.
On the downside, the film lacks intensity; everything is dealt with rather superficially without any emotional connect.
There are, however, plenty of masala moments with something for everyone. The attempt to build a mass hero image for Sivakarthikeyan is unmistakable.
A decently paced, well scripted film with plenty of humour and great music makes Sivakarthikeyan's Kaaki Sattai worth a watch.
Rediff Rating: