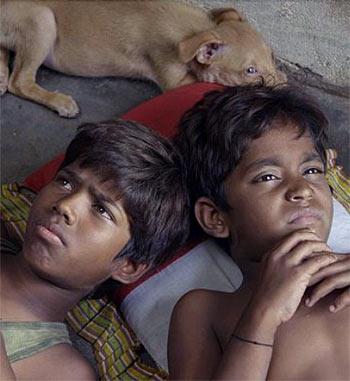 Kaaka Muttai is a delightful entertainer with a subtle message, writes S Saraswathi.
Films that are critically acclaimed seldom shine at the box office. National Awards and international acclaim seldom tempt the average filmgoer.
But debutant director Manikandan's Kaaka Muttai, that won two National Awards and has been successfully screened at several international film festivals, is all set to break that notion.
The film is just pure entertainment!
Dhanush and Vetrimaaran (of Aadukalam fame), who have jointly produced the film, have a winner on their hands.
The film revolves around the lives, hopes and dreams of two youngsters, Periya Kaaka Muttai (Vignesh) and Chinna Kaaka Muttai (Ramesh) living in the slums of Chennai.
A swanky pizza joint opens near their slum. Actor Simbhu is invited for the inauguration, and the children become obsessed with the tempting pizza that is served to him.
At first, they decide to earn the Rs 300 needed for the pizza but it seems like a distant dream. So they resort to stealing and other ingenious tricks like ferrying drunkards from the bar to their homes.
Soon they have enough money for the pizza; unfortunately, their clothes are not good enough for the fancy restaurant.
Callously driven away by the watchman, the kids are determined to earn some more to buy decent clothes.
Sadly, not even branded jeans and T-shirts can hide their wretched background. This time they are physically abused before being thrown out. Deeply humiliated, the children give up on their dreams.
The second half veers slightly towards the commercial.
Director Manikandan, who also wields the camera, has unobtrusively captured all the nitty-gritty details of the filthy, shabby, congested run-down rat-holes that serve as homes for the slum dwellers.
G V Prakash's music perfectly complements the milieu and at under two hours, editing by T E Kishore is spot on.
But the soul of the film is undoubtedly its characters, especially young Ramesh and Vignesh, who won a National Award for their stunning effort.
You are drawn into their life as they go about their mission, determined to succeed. Their infectious grins, eyes that light up with mischief or unconsciously fill with tears, and their spontaneity will put most top actors to shame.
Ishwarya Rajesh, who plays the children's mother, is perfectly cast, and so is the grandmother, who attempts to make pizza with dosa batter for her desperate grandchildren.
The director has touched upon many issues: the class divide, poverty, desires, the root of anti-social behaviour, the fickleness of society, the lure of advertisements, the influence of film stars, and the insensitive media. But he has chosen to do it discreetly.
He has generously peppered the narrative with fun moments without undermining the underlying concern.
Kaaka Muttai is totally worth it, definitely a must watch.
Rediff Rating: