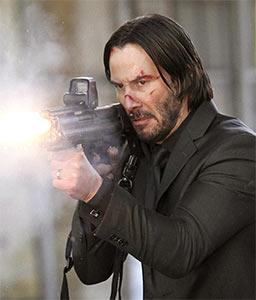 If you're a fan of action thrillers and have hungrily devoured Stallone and Segal's crappiest films of the same genre, then you're going to love John Wick, says Paloma Sharma.

If you thought that the Hulk was the wrong guy to enrage, you obviously haven't met John Wick.
Co-written and co-directed by stunt artists Chad Stahelski and David Leitch, John Wick features Keanu Reeves as the eponymous lead and not a frame goes by without the actor in it.

But with a film this good, nobody's complaining.
Ex-assassin John Wick left the mob five years ago to marry the woman he loved.

However, his wife, Helen (Bridget Moynahan), dies after a long illness. In order to help him go on, she leaves him a beagle puppy called Daisy.
While John isn't exactly thrilled about Daisy's arrival, it isn't long before he gets attached to her and she becomes a permanent fixture by his side.
One day at the gas station, a couple of thugs spot John's '69 Mustang and their leader, Iosef Tarasov (Alfie Allen), son of Russian mob boss Viggo Tarasov (Michael Nyqvist), tries to persuade John to sell him the car.

When John refuses, Iosef and his boys break into John's home, attack him, kill Daisy and steal his car.
Little does Iosef realise whom he has wronged and the consequences of bringing John Wick out of retirement.
For a debutant directors, Stahelski and Leitch show commendable skill at execution (no pun intended), turning a run-of-the-mill action flick into something more.
The script remains refreshingly simple, yet intriguing, ensuring that the directors do not get caught up in the complicated subplots as one observes every now and then.
Made on a budget of $20 million, John Wick boasts of a suave production quality and some finely timed editing by Elisabet Ronalds.
Ronalds keeps things to a bare minimum, never letting a scene linger on for even a second more and ensures that your eyes and your mind never stray from the screen throughout the film's 101 minute run time.
Cinematographer Johnathan Sela lets his camera do the talking, expertly playing with light and shadow, keeping John Wick's face half lit in several scenes -- to signify a dark side, perhaps?
Meanwhile, Tyler Bates and Joel Richards' soundtrack makes sure that you understand two things throughout the film:
1. John Wick is armed, angry and dangerous

2. John Wick is the coolest hitman you've seen in a while
It is hard to disagree with either.
With the directors' background as long time stuntmen, it is no surprise that John Wick comes with lovely, lethal (and yet entirely believable) hand to hand combat, among other things.

Stahelski and Leitch make sure that Wick comes off as extremely skilled but never superhuman.
John Wick is the revival that Reeves' fans (with yours truly being one of them) have been waiting for, for a while now.

It is safe to say that Keanu is back and this time, he's brought his screen presence with him.

A perfect blend of angst, brutality and soft, damp eyes that could rival Daisy's, Keanu Reeves is the best John Wick that one could possibly find.
It should be understood that this film is no masterpiece.

It brings nothing new to the table and if it weren't for the stylish visuals, yawns would probably be a common occurrence.

However, if you're a fan of action thrillers and have hungrily devoured Stallone and Segal's crappiest films of the same genre, then you're going to love this.
The blood splatter on the camera is just a bonus.
John Wick is just like it's protagonist -- slick, violent and above all, unmissable.

Rediff Rating: