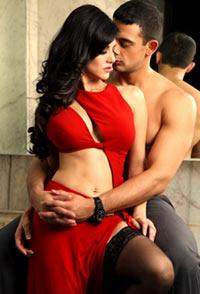 Sunny Leone's assets are the script, screenplay and sole purpose of Jism 2, writes Sukanya Verma.
Sex is a lot of things -- emotional, exciting, dirty. But boring? Even with Sunny Leone in it? Wow, Bollywood that's below the belt. Even by your standards.
The Pooja Bhatt directed
Jism 2
alternates as a picturesque and dark erotic drama along the lines of
Last Tango in Paris
and
In The Cut
but is much too comical to turn on the heat as either.
First things first, Leone looks predictably hot, has an easy screen presence but in a role that capitalises on little except her obvious USPs from every conceivable angle, this comes as no surprise. What else? She delivers her lines with the concentration of an impassive newsreader rattling off cue cards on the screen. She has the body but not the racy persona required to hit the sensual notes in the footsteps of a Sharon Stone or Bipasha Basu.
So what's the fuss about? The action shifts this time round from Pondicherry to Sri Lanka. Two adult men with chiselled physiques and shirts that refuse to stay on for more than 120 seconds orchestrate a tug of war over an exceptionally endowed porn star as if she was the only woman on the planet, which could be the case considering you don't see any other female presence in its entire duration.
One's an intelligence officer (Arunoday Singh. Dude, please don't cry on big screen again. EVER.) who along with his superior (Arif 'Sigh' Zakaria) hires a porn star's (Sunny Leone) services as an infiltration device to sneak crucial data from an ex-officer turned terrorist's (Randeep Hooda, Bane had a mask, what's your excuse for that voice?) hard drive.
The pun isn't lost on any of us.
Leone and Hooda happen to be an ex-item and that's why she's picked to do the job. That's all you really need to know. Everything else is just a tedious build up of gibberish babble and unintentional hilarity that act like space fillers leading up to lengthy love-making sessions between Leone-Hooda/Leone-Singh.
That, however, is neither its undoing nor its strength. At best, it's just a blank, expressionless parade of rehearsed intimacy featuring an entire catalogue of seductive poses and salon-polished skin playing against various artists' bland soundtrack, which is better suited for exotic spa or honeymoon package commercials. Hollowness, not audacity, is Jism 2's real problem.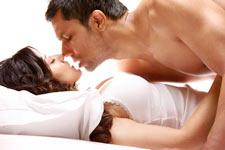 In most movies of this genre, sex is employed as a sly tool to arouse psychological intrigue and suspicion, where lack of inhibition works as a disturbing element (Eyes Wide Shut, Sleeping Beauty, anyone?) instead of shabby titillation. But what can one say about a film so paranoid that characters react with such emotional exaggeration and neuroticism as if a nuclear holocaust is upon us?

Things

get irreversibly dreary after a while. I mean, how many times can one watch two people with zero chemistry going at it, again and again and, well, you get the drift. The one good thing about Jism 2 is the lush green resort it has been shot in -- Galle, Sri Lanka. At one point, the possibility of getting a detailed tour of the resort or even its unoccupied rooms seems more exciting than yet another glimpse of Leone's undressed torso.

The earlier Jism, (although not on my list of DVDs I'd take on a deserted island) at least had some edge, a sinister motive and a heady physical chemistry between John Abraham and Basu. But in Jism 2, all this is clearly of no consequence. Moreover, it's impossible to concentrate on anything except the dialogues, which are so, SO cheesy, it'll split your sides. Hold on, I've noted down a few:

'Apne dil ki shikayat khoon se kardi, bas ek shikayat hai ki kaash mere khoon ka rang mere ishq ki tarah gehra hota.'

'Usse pyaar karna meri woh pyaas thi jisse pyaas bujhti thi meri.'

'Tumhe sab kuch karna hai. Sab kuch. (Insert winks.)'

'Hum dono ek doosre se jhooth bol sakte hain par iss jism ka kya karen?'

'Jo aadmi apne mulk se wafadari nahi kar saka, usne iske jism se wafadari kardi.'

'Jo kaam ek mehbooba nahi kar sakti, woh ek biwi hi kar sakti hai.'

'Aao iss lamhe ko jee lete hain. Amar kar dete hain.'

The screenplay is just as dim-witted. In one of the scenes, Leone hands Hooda a love letter, which the latter sniffs as if it's English Lavender. It's some cheap brand of stinky orange-red ink, of course, passed off as Leone blood scribbling lines you'll only read in amateur teen romances, 'You came into my life like the moon.'

Really, Pooja? I've always regarded the plucky star of some breezy 1990s rom-coms as someone effortlessly articulate and open-minded but surprisingly it has never reflected in a single one of her movies. Her direction and dad Mahesh Bhatt's script is so defective and daft wherein nothing makes any sense reducing its lady protagonist to a weak-minded puppet.

It takes one fleeting, uninspiring meeting between Hooda and Leone before you know she's gorging on him like a subway wrap. For all their reckless deadliness, both secret government agents and hard-boiled terrorists behave like air-headed school boys sulking and breaking down over their voluptuous object of affection. Speaking of which, why would any self-respecting woman (so what if she's a porn star in and outside the movie) romp about in provocative, barely-there lingerie while sharing space with a sort-of employer she's getting paid by to spy for.

It's like Sunny Leone's assets are the script, screenplay and sole purpose of Jism 2 and everyone outside that -- Hooda, Singh, Zakaria or the audience -- is obliged to wag their tongues with thrill. Well, duh, for thinking otherwise.

Rediff Rating: