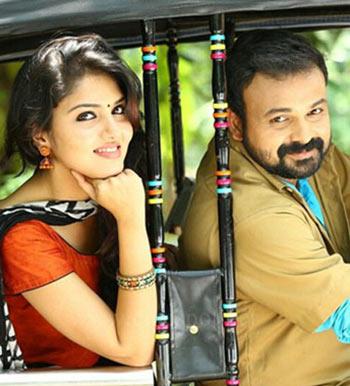 Jamna Pyari remains a mediocre effort that cannot fulfill viewer expectations in this festive season., says Paresh C Palicha.
Actors, these days, using stylish dialects of a particular region has become a trend in Malayalam cinema. Directors hope to lure audiences in with this style.
And this trend is quite pronounced in Thomas Sebastian's Jamna Pyari, where Kunchacko Boban is made to use a loud Thrissur slang.
Kunchacko Boban plays an auto rickshaw driver Vasukuttan, a good Samaritan who helps people buy household items and children finish school projects. Yet, he's never late for appointments.
His life goes for a toss after he gives a ride to Parvathy (Gayathry Suresh), who had the impossible task of reach a railway station in 10 minutes.
The next thing we know is Parvathy is a damsel in distress, whose family is on the brink of suicide and our man is their only saviour.
This film is supposed to be a comedy, so their reason for distress should of course be humorous.
Parvathy's father (Maniyanpilla Raju), who runs a farm has committed to supply a 100 goats for export but cannot find any, as his rich neighbour (Renji Panicker), who is eyeing to takeover the farm, is creating roadblocks.
So Vasukuttan and friends get together to find 100 export quality Jamna Pyaris (goats)!
Reading the above lines would just take a few minutes but watching it unfold on screen for a few hours is a totally different story.
Most of the humour is injected by Suraj Venjaramoodu, Neeraj Madhav, Joy Mathew and Aju Varghese. It's heartening to see Suraj in a full length role after a long while.
Kunchacko Boban tries to slip into Mohanlal's shoes by trying do a role that the superstar did in his younger days, carrying pathos wrapped in humour. But those are big shoes to fill, Boban falters.
Model-turned-actress Gayathry Suresh may have played a pivotal role as far as the story is concerned but she doesn't exert much energy in her performance.
Thomas Sebastian's direction leaves much to be desired as far as making the story convincing or coherent goes.
The main culprit is the weak story that lacks depth.
On the whole, Jamna Pyari remains a mediocre effort that cannot fulfill viewer expectations in this festive season.
Rediff Rating: