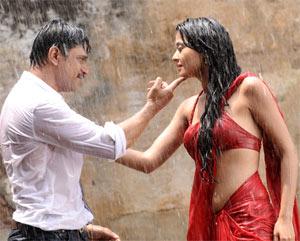 Arjun Sarja's Jai Hind 2 is a trite and uninspiring action drama that advocates free education for children, says S Saraswathi.
Patriotic fervour is the essence of many of 'Action King' Arjun's films. Blockbusters like Gentleman, Jai Hind and Mudhalvan promoted patriotism and addressed the everyday issues faced by the common man.
Jai Hind was about a powerful terrorist group trying to infiltrate the State. Its sequel Jai Hind 2 is about children's right to education.
The issue is relevant and contemporary, but the script is stale and its execution out of date.
The film has a large cast. The tale is narrated in flashbacks as experienced by the different characters in the film.
Abhimanyu (Arjun) is a decent, mature computer maintenance guy and a martial arts expert. He teaches young children karate for free in his spare time.
Impressed by his admirable qualities and powerful physique, Nandhini (Surveen Chawla) falls for him hard. Her parents are ecstatic with the match and the wedding date is fixed.
Then tragedy strikes in Abhimanyu's neighbourhood. Unable to afford the exorbitant fees of a private school, a poor carpenter, his wife and their young daughter commit suicide.
Abhimanyu is deeply affected. He decides to do something concrete.
He believes that if all the private schools are taken over by the government and nationalised, then every child in the country can be given good quality education without any discrimination.
Predictably, the private-school owners do not take this lying down. They retaliate and soon it is an all-out war.
The narrative goes off track in the second half trying to accommodate as many commercial elements as possible - a jail term, a highly melodramatic marriage scene, escape, foreign locales, international goons, hackers, gun fights and the anticipated climax.
The film drags on endlessly, testing the patience of the audience. Telugu actor Brahmanandam and Mayilsamy have been roped in to provide the laughs, but they fail miserably. None of their predicaments appear even remotely funny.
Atul Mathur, who plays the antagonist, is not very impressive. Also, there are some very obvious lip sync issues, which lessen the intensity of the dialogues.
Average songs and an uninspiring background score composed by Arjun Jeniya do not help matters either.
The romance angle, however, is dealt with differently. Surveen Chawla looks extremely young, pretty and gives a neat performance.
Arjun is excellent in a mature and understated performance. Even at over 50, he appears fit and some of the stunt sequences are truly impressive.
Unfortunately, Arjun fails as a director. Despite the good storyline, he struggles to keep the audience involved. The real issue seems lost in all the unnecessary twists and drama surrounding the characters.
Patriotic action dramas have been his forte, but Jai Hind 2 neither creates empathy for the characters and their situation, nor has entertainment value.
Rediff Rating: