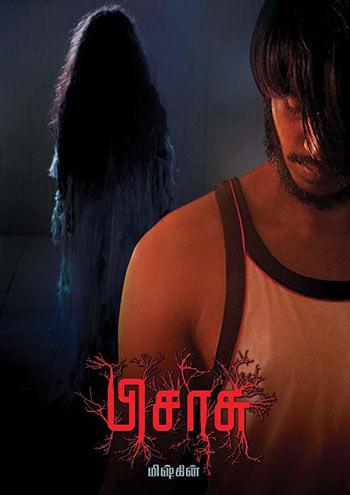 Taut screenplay, simple dialogues, excellent characterisation, admirable performances and perfect execution make Mysskin's Pisaasu a must watch, says S Saraswathi.
Produced by director Bala's B Studios, Pisaasu (Evil Spirit) marks Mysskin's foray into the world of the paranormal.
After proving that he is the master of unconventional thrillers with blockbusters like Anjathe and Yuddham Sei, Mysskin has turned to horror for his latest venture.
Pisaasu explores the supernatural with a heartwarming tale of love, interwoven with chilling moments of terror and a generous sprinkling of humour.
The film features newcomers Naga and Prayaga Martin in the lead roles, supported by Harish Uthaman of Pandiya Nadu fame, Malayalam actress Kani Kusruti, and veteran actor Radha Ravi.
The film hooks you with the very first scene as violins play sublimely in the background and there is a tragic road accident of a young girl (Prayaga).
Siddharth (Naga), who is at the scene of the accident, rushes the girl to hospital. In the last moments of her life, she gazes steadily into Siddharth's anxious eyes, gripping his hand tight.
The girl dies and Siddharth is shattered. A violinist by profession, he is deeply disturbed, unable to concentrate on his career.
As he struggles to cope with this senseless loss of a young life, he begins to notice a strange presence surrounding him and his house.
He is terrified and brings in an exorcist. But what follows is hilarious and the fraudster is driven out of the house by the spirit in the house.
Can Siddharth hope to be free of this spirit or is he stuck with her for eternity?
Prayaga appears as herself in just a couple of scenes, but she makes quite an impression and so does Naga.
Besides the lead pair, there are several other thoughtfully etched-out characters, which make the film even more interesting.
Mysskin has handpicked a team of top-notch technicians. Music by debutant Arrol Corelli adds depth to the narration, skillfully maintaining the poignancy of the tale.
The innovative camera angles and subdued lighting unique to Mysskin have been faithfully adhered to by cinematographer Ravi Roy.
Despite the unhurried pace, editor Gopinath ensures there is never a dull moment in the film.
In Pisaasu, the malevolence generally attributed to evil spirits is lacking. It is totally devoid of the regular clichés associated with horror flicks.
The violins playing continuously in the background dilute the moments of terror and create an atmosphere of deep and profound grief.
Deliberately paced, with stunning music and an intriguing plot, Pisaasu is a typical, thought-provoking Mysskin film that deserves much applause.
The taut screenplay, simple dialogues, excellent characterisation and admirable performances coupled with perfect execution, make Mysskin's Pisaasu a must watch.
Rediff Rating: