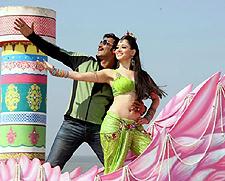 Sukanya Verma says you'll laugh at Sajid Khan's remake of Himmatwala if not with it.
Couple of weeks back, my neighbour and I were chatting about upcoming Bollywood films and he completely dismissed the probability of watching Sajid Khan's Himmatwala. His six-year-old daughter overheard this and at once protested, 'But I want to watch it and I will whether you like it or not.'
Few days later, I watched a television interview where the audacious filmmaker notes, 'My films appeal to kids between the age of five to ten.'
Clearly, the man really knows his target turnout. One kid's approval amounts to selling three tickets since he/she will be accompanied by his parents, willingly or otherwise.
And while I give him full marks for insight, it doesn't always translate into great films. He doesn't care, of course. He hasn't had to. Understanding the pulse of an easily-pleased audience alone has led to booming business for all his films like Heyy Babyy, Housefull and Housefull 2.
Who knows, thirty years from now Aakhri Pasta is heralded as an iconic figure in pop culture and Imma Joking T-shirts might actually give Being Human a run for their money. (Gee, I may be exhibiting some side effects after watching Himmatwala. Damn ticket didn't carry any disclaimer. Not even in fine print.)
While you shudder at the prospect, here's the dope on the laughable hence watchable Himmatwala. The original came out in 1983 on this very day but I don't have any memory of it. (Neither does Tammanah. She was born six years later.) The only thing I remember about that year is Sunny Deol strutting about his farmhouse with a magnificent horse and adorable Labrador in tow. (But they're not remaking it. Yet. So, phew. And yay.)
Anyway, I revisited the Jeetendra-Sridevi starrer again recently for the sake of this article. Barring Kader Khan's (whom I admire unconditionally for sheer cheek) geography-dependent humour, dotty camaraderie with a rifle-toting Amjad Khan and Sri-Jeetu's sprightly jhatka-matkas to loony lyrics, I didn't find Himmatwala anything more than a formulaic masala about oppressive village landlords being taught a lesson, spoilt rich shrews begging to be tamed, destitute mother-sister duo with an ever-ready supply of glycerine and a string of jarring sub-plots to prolong its third act.
Obviously, Sajid Khan will not agree. He loved it immensely and watched the movie repeatedly in Juhu's Chandan theatre (One of the best places, along with Gaiety/Galaxy theatre to understand your average viewer's likes/dislikes). Unlike Karan Johar, however, he didn't have any emotional reason to remake it. Himmatwala, as opposed to Agneepath, was one of the biggest hits of that year.
The idea here, I think, is not an upgrade but to go back in time and relive those foolish sensibilities so many filmmakers have painstakingly tried to erase with the hope of promoting entertaining, progressive films. Sarcasm aside, retro is fun but only when offered with levity, chutzpah and an ironic of parody and reverence. His sister Farah (Om Shanti Om, Main Hoon Naa) is a master of this virtue.
The new Himmatwala displays this quality but only in spurts and superficially. To Sajid's credit, he does away with all those congesting sub-plots I was previously whining about to keep the focus solely on Ajay Devgn in and as Himmatwala.
So here's what he does – a) Make a heroic entry inside a fighting arena with blasting electric guitar for introductory score, b) Bend an iron bar with his bare hands to draw attention to the 'himmat' in the title, c) Land at Ramnagar and small talk with the reliably hammy Asrani (also in the original), d) Discover his widowed mom (Zarina Wahab) and kid sister (Leena Jumani) doing what every mother-sister duo did if 1980s are to be believed – sew, swab, sweep, scrub, e) Vows revenge against village tyrant Sher Singh (Mahesh Manjerekar) f) Discipline his I hate gareebs-spewing daughter (Tamannaah) g) Sock a CGI-generated tiger in the jaw h) Win the girl's heart and free gift voucher to tathaiya tathaiya ho, i) Pay an unexpected tribute to Abbas-Mustan with the proverbial pre-interval 'kahani-mein-twist' j) Bash goons of all shape, size and colour to rescue sister's izzat, win girlfriend's favour and reaffirm a mother's vishwaas.
Expectedly, it's all very over-the-top but here's the thing. The 1983 one established Jeetendra as a professional, an engineer, a man of purpose striving to bring change within a terribly feudal set-up while engaging a personal vendetta. It didn't always work but the script fuelled his heroism.
Devgn, on the other hand, loiters about doing nothing and relies purely on physical might to make an impact. For a man who brags about having so much faith in oneself, he sure wears a lot of stones on his fingers.
No matter how many comedies he stars in and how well they do, this genre is not his forte. Nor can he dance. Watching him work those stiff legs and rigid expressions along with the beautiful (but bland) Tammanah to songs that scream for spunk is harrowing.
The two have no chemistry with each other or anyone else in the movie. Previously, Kader Khan, Amjad Khan, Sridevi, Jeetendra, Shakti Kapoor went on to work as a team on several entertainers together and their on screen comfort made the mindlessness a tad more credible.
Speaking of Kader Khan, Himmatwala pays tribute to his trademark quips and mannerisms wholeheartedly through Paresh Rawal's energetic delivery. If you look past the absurd poodle-inspired hair he's sporting, the actor does a swell job of capturing the not-nearly-enough-celebrated comedian. Be it the voice, accent or body language as both Himmatwala's Narayan Shankar and Bajrangi (remember his talk-to-the-camera/viewer gimmick in Ghar Ho Toh Aisa?), Rawal is responsible for all the laughs in the new edition.
It takes a sport to kiss Mahesh Manjrekar in the ear and mouth lines like, 'Aap gutter hain toh main uska ganda pani hoon.' 'Yeh haath hai ya hathoda. Is kidon ke shaher mein kahan se aaya makoda' 'Mere paap ke kachre ko, apne imandari ki jhadoo se saaf kar de.' 'Shareer ke ek ek hissa chila raha hai Bharat bandh.' When it comes to foolhardiness, this is quite a faithful adaptation.
Manjrekar doesn't have Amjad Khan's aura but he surprises by refusing to be his usual overboard self. With his comic timing, the man could do wonders in a well-written script. He's genuinely droll in the Aye Aye dining table scene and a spoof on Hitchcock's Psycho.
Sajid Khan loves big scale but the production values of all his films, their aesthetics, g are consistently tacky. Himmatwala is no different.
And while he caters to tots when instructing Manjrekar and Rawal to dance like a bunch of goofballs against Ashok Kumar's rendition of Rail gaadi, he subjects the same spectators to a completely needless rape attempt.
Also, I was hoping he'll eliminate the regressive stance of Himmatwala's mom after she refuses to defend her daughter, subjected to domestic violence by her slimy husband (Adhyayan Suman is perfectly cast as the new age Shakti Kapoor) offering the same old infuriating 'doli-arthi' excuse. The extent of this double standard is when Himmatwala crosses all limits of outrageous with its 'Aaj ek maa ek bete ke pair chooyegi' baloney.


In one of the films' hilariously tragic scenes, a character says, 'Teri maa, meri maa. Teri bahen, meri bahen.' But even though I sincerely tried Sajid, teri audience cannot be meri audience.'
Rediff Rating: