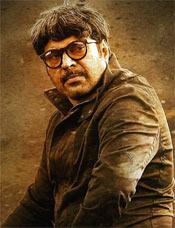 Even those who feel like defending Gangster because it is made for the mass audience will be disappointed, says Paresh C Palicha.
There is no point in saying that Gangster, the latest film directed by Aashiq Abu, is a cliched gangster movie as the makers do not claim it is anything else.
There is the use of animation technology that makes it a little different - and incidentally saves the cost of a couple of supporting actors and half a dozen junior artistes.
Akbar (Mammootty) whose father was a gangster in Mumbai in the early '60s is used to seeing gang wars and bloodshed.
After taking revenge for his father's death, Akbar shifts his base to Mangalore, where there are two other underworld dons, Mani Menon (Kunchan) and Uncle Sam (John Paul).
They accept Akbar as their leader and he sets the rules. But, problems start cropping up when Uncle Sam's godson Anto (Shekar Menon) appears on the scene.
He is a 'new age' gangster and does not believe in the old values and customs followed by Akbar. So, the conflict between the two starts.
There is hardly anything new that this film offers. Akbar is presented as a man of few words, who drops inane one- liners at regular interval, and is shown in semi-darkness most of the time.
Shekar Menon is a chain-smoking, cocaine-sniffing sadist with women. It is the worst case of miscasting as Shekar was the cuddly and lovable hero of Da Thadiya and is not convincing as the menacing bad guy here.
Kunchan, usually caste as a comedian, is an underworld don here who always wears white clothes. He fails to be convincing in this new avatar.
The women in the film are of no importance; Nyla Usha, as Akbar's wife, gets killed in a bomb blast after being present on the screen for a few minutes.
It is surprising that Aparna Gopinath, who is Anto's friend Lily, agreed to do this film.
Even those who feel like defending this film because it is made for the mass audience will be disappointed with this cliched film.
Rediff Rating: