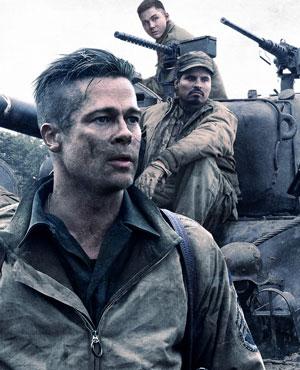 Fury may not be everyone's cup of tea but it serves as a great reminder of the devastation wars bring with them, says Paloma Sharma.

It is April, 1945.
The Allies are capturing German towns but the Nazis' superior machinery is diminishing their numbers by the dozen.
Hunger is rampant and death is omnipresent.
In such trying times, a young army typist, Norman Ellison (Logan Lerman) is sent to war in Germany as a replacement for the dead tank driver of a unit of 2nd Armoured Division of the 66th Armoured Regiment.
Norman finds himself terribly ill-equipped to handle the war he has been thrust into as well as his four, battle hardened tank-mates -- the Staff Sargent and the toughest of them all, Don 'Wardaddy' Collier (Brad Pitt), the righteous Boyd 'Bible' Swan(Shia LaBeouf), the crass Grady 'Coon Ass' Travis (Jon Bernthal) and his co-driver Trini 'Gordo' Garcia (Michael Peña).
When Norman is unable to (and unwilling to) kill a Nazi, Wardaddy takes it upon himself to turn the weak typist into a strong soldier before he costs them the war and their lives.
Fury's director David Ayer sure has come a long way since Street Kings (2008).
Every square millimetre of every frame of Fury is well utilised. It seems as though Ayer and the director of photography, Roman Vasyanov, spent hours on composition and it certainly paid off.
The camera is left to tell the story through revolting, breathtaking visuals and the simplistic script takes a back seat.

The sound design rises to the challenge and in a strong partnership helps move the story along. Ultimately, what pulls Fury through is sheer heart.
Fury is primarily Pitt and Lerman's show.

The former plays a toned down, more sensitive version of his character from Tarentino's Inglourious Basterds while the latter does a fine job of portraying Norman's transformation.
Jon Bernthal, Michael Peña and Shia LaBeouf do not prove to be indispensable to the film but to be fair, they have half-baked characters and very little material to work with.
Unlike the recent Lone Survivor, Fury looks beyond the supposed glory of war and is unafraid to lay out the truth in the form of fields and fields of dead, mutilated bodies -- lives that have amounted to nothing, unlike what films riding on politically motivated pseudo patriotic propaganda would have you believe.
Fury makes one appreciate Ayer for being brave enough to portray the consequences of war and the things it costs soldiers and civilians alike, instead of just focusing on the glory that martyred military men receive.
'War never ends quietly, ' reads the poster of the film and Ayer makes sure that he drives the point home throughout the 134 minutes of its run time.
Fury may not everyone's cup of tea.

It isn't easy watching a man engulfed by flames running out of his tank and shooting himself in the head, his skull splattering in different directions like a watermelon breaking open.
However, just because everybody won't be able to watch it doesn't mean they shouldn't.
It is raw, intense and a great reminder of what all (and who all) are sacrificed to keep the peace.

Rediff Rating: