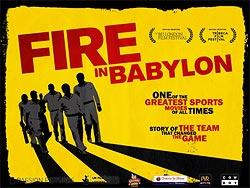 Fire In Babylon is a riveting documentary, writes Raja Sen

It was in 1976 that England's charismatic cricket captain stupidly and suicidally claimed that their team would make the West Indies cricket team "grovel."
One of the most infamous statements largely because of apartheid-torn times and England's post-colonial hangover, this did not go down well with the world's press, and least of all with the Caribbean cricketers themselves. The West Indies had been humiliated and taken apart by the bowling savagery of the Australians a year before, and, having in turn decided to amp up their own bowling to nightmarish brilliance, had shown up in India and made Sunil Gavaskar and his men look like wusses.
Now they were playing England in England, and captain Tony Greig's incendiary comment galvanised a team of raw talent into a ruthless assassination squad. Greig, I assure you, did not get off unbruised.
Fire In Babylon
, a riveting documentary by Stevan Riley, is not a film merely about cricket. It is a story of a nation -- referred to memorably as a world-conquering group of dots in the water -- casting off the yoke of oppression and discovering pride and self-worth, a story of the establishing of a national identity.
It is a cultural tale, of how a once-enslaved nation looked to its cricketers for hope, and how they, like a ragtag team of everyman superheroes, gave them the confidence and the hope when they needed. It is the story of a cricket team that dominated Test cricket for fifteen years and won the first two World Cups, yes, but it is also the story of a country looking to Bob Marley -- and his friend Vivian Richards -- to help them Get up, Stand up, and not Give up the fight.
A dramatically made film,
Babylon
borders almost on the sensationalist from time to
time, but then why wouldn't it? The story is truly the stuff of legend: think a real life
Lagaan
with the villagers conquering the whole damned world. (And unequivocally so; no last ball six needed here.) It was the great Australian fast bowlers who introduced and first intimidated murderous bowling, hurling the ball at knuckles and ribs and shattering batsmen, but it was the West Indians who perfected the art, who honed the bowling weaponry to frighteningly good levels, and got several supermen to put the slaughter in motion all at once.
The white world immediately balked and began calling it unsporting, suddenly treating the West Indies like bullies -- bullies whose bowlers knocked heads off and whose batsmen, led by Richards, treated other bowlers with majestic disdain.
Babylon
does well -- through an exhaustive series of interviews and bytes, and cultural commentary, all delivered in that thick, lilting West Indies accent -- to keep things interesting, with old Calypso musicians singing about their heroes and the menacing cricketers of yore now sitting casually and smiling to the cameras about the time one of them was, for example, nicknamed a hit-man.
The assassination parallels aren't an exaggeration; people got hurt, and that was never pretty.
And yet like films focussing on sport,
Babylon
is often beautiful. In the way Joel Garner's forearm glistens as he hurls a leather missile, in the way empire-toppling captain Clive Lloyd smiles after hard-earned victory, and, most of all, in that epic side-on clip of the great Michael Holding, nicknamed Whispering Death, coming in to bowl in slow motion, his action ninja-graceful and lethal as a starved panther. It doesn't take a cricket lover to appreciate an instant of such dazzling poise, though be warned, for it may just make one out of you.
Rediff Rating: