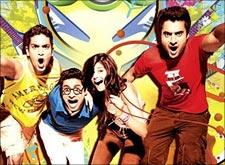 Ankur Pathak reviews FALTU. Post YOUR reviews here!

When charting out a film that takes you to the college hallways, introduces an ideal group of 'buddies', and shows all things vibrant and 'happening', the makers are actually hanging by a thin chord; you'd either get the collegian razzmatazz bang right, or there'd be a herd of wannabes belligerently trying to amaze their way into believable adolescents. 

In Vashu Bhagnani produced FALTU (it's a naff acronym), which evidently steals inspiration from Steve Pink's 2006 comedy Accepted, Ritesh (Jackky) and Nanj (Angad Bedi) are utterly hopeless when they write exams, and accompanying them is Pooja (Puja Gupta). Just about managing to get clearance with percentages ranging in the bracket of 35-40, the trio faces rejection from every institute, much to the dismay of their respective parents.

This triggers the leading star to think 'innovative', and from what starts just as a token letter of acceptance in Fakeerchand and Lakeerchand Trust University soon cumulates into a big gamble, as the fictitious college website leads to uproar and an army of students -- all other rejects, throng to the campus where they got 'admitted'.

Most of FALTU is pleasing. Although the premise is unrealistic, to stretch the parameters that decide authenticity, the movie convinces you, and moreover, even in its fabricated fashion, it does succeed in confronting the flaws in our educational scenario.

Drawing comparisons with a Rajkumar Hirani film wouldn't be just because, FALTU targets the challenging tour of transition from high school (junior college) to a well-recognised degree institute whereas the latter stressed on the pressures post entering.

FALTU is indeed an underdog story. They are underperformers academically but not wholly uninspired. Their transformation, fuelled by Riteish(Jackky Bhagnani), who is guided by Baaji Rao (Riteish Deshmukh) and Google (Arshad Warsi), is subtle and cleverly brought out.

Thus, after a lot of hullabaloo, there are courses of choice in the college, and here passion compliments the theory, and quite remarkably the film utilises digital exploitation for sundry tutoring benefits, like the videos of experts instructing uploaded on their website. This might not look immediately pragmatic but it isn't far-fetched either.

The film's weakness reflects in its rushed characterization, in fact, their very inception. Like Arshad Warsi's Google's origin is unexplained. Although he is a likeable guy, but you wonder how he is

immensely resourceful, monetarily and influentially, as he without much trouble gets the massive college property, and also invests on its gleaming renovation.

Riteish's Baajirao, is initially introduced as a person incapable of responsibility, however by the time the movie cumulates, he comes across as a valuable constituent. Both the actors, share appraisable camaraderie and infuse the much needed youth-like humour. Boman Irani, however, as a BMC school principal is under-utilised but evokes occasional giggles. The 3 Idiots hangover doesn't seem to dry off till now.

It might be argued that the over-dramatic background score is mandatory to keep the turn of events pepped up, but at points it drenches the film of seriousness, and portrays it as a frivolous musical dramedy with its recurrent songs, although the music by Sachin -- Jigar is feet-tapping good. Frivolous, the film opens. Run of the mill, the characters debut. But, over a brief period, they attract beguilingly and also take you in sympathetically as you want them to do well. This is pretty much an accomplishment.

Although FALTU's screenplay is openly lifted from Accepted, as the movie terminates it takes its own course resulting into an unexpectedly charming climax that metaphorically demonstrates the teething troubles of students stuck in a just passed to an average category.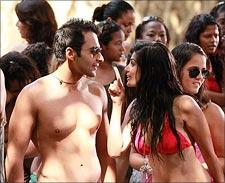 The dialogues don't sound contrived, and sensibly enough have been strictly kept measured and under-toned. This helps the film in not getting too preachy and yet be effective.

All you wish was that the story would've been nourished more, fine-tuned here and there.

Jackky Bhagnani's re-launch would after all be successful, as without being dominating, he emits confidence, and portrays the role of the rebellious youth very comfortably. His body-language shows no trace of uneasiness and expressions click and convey.

Angad Bedi is a discovery, whereas Chandan Roy Sanyal soaks Vishnu and arouses humour as the geek-gone-wild. Puja Gupta, facially resembles Prachi Desai, but acts mediocrely.  

FALTU might not be revolutionary or inspiring, as it attempts to be, that slot primarily reserved to Rang De Basanti, but Remo D'Souza's level-headed direction amidst impressively enacted supporting roles by parents of the central characters keeps it uplifted.

An ambitious sophomore story of scholastically dim students coursing an almost impossible journey to prove their worth, enrolling for once in FALTU, might not be a faltu idea after all.

Rediff Rating: