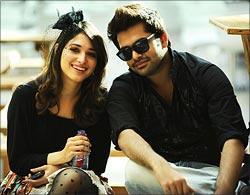 A Karunakaran who is known for his love stories, spins a different yarn in
Endukante Premanta.
It is a reincarnation saga that doesn't quite take off.
The plot is full of loopholes and the story lacks depth, making it difficult for audiences to connect.
Karunakaran's usual deft writing and direction is missing in this film which is in some fantasy zone, hovering between life, death and the paranormal.
It's the 1980s and Krishna (Ram) loves Srinidhi (Tamannaah Bhatia) and waits to see her every day for three years at a given bus-stop.
On the last day of college, she finds him missing at the bus stop. But Krishna gets into the bus disguised in a burkha.
He then saves her from an accident but dies himself. On hearing of his death, Srinidhi too dies on his grave.
Fast forward to 2012. Sravanthi (Tamannaah), the daughter of the Indian ambassador (Suman) in Paris, leads a stifling life, protected by security guards all the time.
Ram is sent by his father to Paris so that he can learn to live on his own. Here he meets Sravanthi who has escaped from home. The two then have to get to India in three days.
The reincarnation in 2012
is not clearly established by the director who is also the writer. After the interval it gets even more bizarre.
There are quite a few loopholes in the script. For instance, it's not clear why DK (Rishi), the ambassador's chief security officer hatches a conspiracy to kill him.
The tedium is broken here and there with some humour from Brahmanandam, Krishna Bhagawan, Raghu Babu and Suman Shetty.
What works for this film is the acting of the lead pair and the technical aspects, particularly the cinematography by Andrews and music by G V Prakash. Andrews captures Paris and Switzerland in all their picturesque splendour, while Prakash composes some foot-tapping numbers.
Ram and Tamannaah are the life and soul of the film. Ram is always highly energetic, while Tamannaah is cool and pretty. The chemistry between them is good.
Anu Haasan is reassuring as the aunt. Suman, Sayaji Shinde, and Nagineedu do their best in their brief roles.
Endukante Premanta is more like the dream Tamannaah has in the film – a sweet fantasy.
There's nothing to look forward to in the film barring the performance of Ram and Tamannaah.
Rediff Rating: