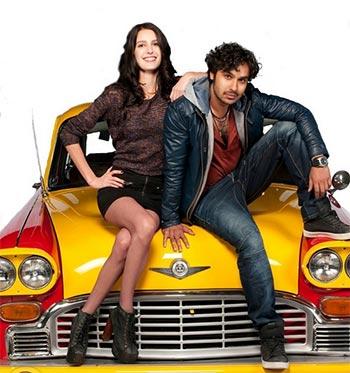 Dr Cabbie never takes itself too seriously, says Joginder Tuteja.
Salman Khan's co-production Dr Cabbie is set in Canada and steers away from the regular commercial masala entertainers he is known for.
Dr Cabbie is a 90 minute take on the life of a young doctor from India, Deepak (Vinay Virmani), who heals people and also drives a cab.
The film begins with Deepak flying out to Canada with his mother (Lilette Dubey in a limited but impressively acted role).
He stays with his hotelier uncle and his lovely foreign wife while hunting for an opening in the medical profession.
As it turns out, the grass is not greener on the other side. He can't get a job that befits his qualifications and takes to illegally treating patients from his cab.
Soon, he becomes the darling of the nation and is dubbed Dr Cabbie.
The law, however, is not impressed.
It is now up to Dr Cabbie to prove whether a licensed practice is more relevant than adhering to the oath he took on receiving his medical degree.
The film could well have turned out to be a rather serious affair but director Jean-François Pouliot makes sure the emotions fluctuate from feel good to a little bit of drama and then some euphoria as well.
Dr Cabbie never takes itself too seriously. The narrative is reasonably fast-paced, and the climax is not long drawn out. The moment the film has made its point, it makes a happy ending.
But the turnaround in Deepak's life is too simplistic. And more time should have been spent on establishing him as a national hero.
Also, as the film progresses, the mood suddenly shifts to a love story.
Kunal Nayyar (who plays Vinay's friend Tony) brings on smiles and laughter. His love story (with Isabelle Kaif, making her debut) could have carried more weight. One really wishes there was more of Nayyar in the film.
Vinay Virmani proves once again that he can engage the audience, and he is instantly likable.
He is well supported by Adrianne Palicki (of GI Joe fame), who is convincing as a woman with a mind of her own.
The film raises a debate, albeit in a subtle way, about the battle between ethics and legality when it comes to the medical profession. That is the core of Dr Cabbie where Salman Khan's values around Being Human make their presence felt, even if it's subtle.
Rediff Rating: