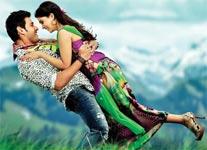 Pavithra Srinivasan writes Telugu film Dookudu is a must-watch if you're a Mahesh Babu fan.

Star-vehicles come with a set formula: the hero's name scorches the screen, he is always on the side of good, he can vanquish a truck-load of villains with his bare fists and get the loveliest girl in the land to fall in love with him. All this while he is the best son or brother his huge household can have.

This time around, 14 Reels Entertainment's Dookudu, one of the most anticipated Telugu films of the year, arrives with some fantastic packaging and a star who bears the weight of such expectations effortlessly: Mahesh Babu.

Director Sreenu Vaitla, joining hands with him, has taken infinite care to make sure the movie's tagline is completely justified: Daring and Dashing. 
Such hero-worship has its plus-points, but also plenty of minuses.
For the first hour anyway, you're too mesmerised by the flashback in sepia tones, which shows Shankar Narayan (Prakashraj) a much-loved politician, make plenty of enemies (Kota Sreenivasa Rao, Shayaji Shinde and co). In addition to being a do-gooder, he is also very fond of his son, but fate intervenes and Shankar Narayan meets with a gory accident.
Enter the dashing hero, after the requisite number of years, grown-up, impeccably dressed in casual wear and beating up goons. Ajay Kumar, IPS (Mahesh Babu) is hot on the trail of the king-pin Don Nayar (Sonu Sood). His investigation takes him and his friends all the way to picturesque Istanbul (courtesy K V Guhan's beautiful camera-work), where they stake out the villain's movements. And where Ajay also runs into his would-be beloved, Prashanti (Samantha Ruth Prabhu), whose arrival is predicted by friend M S Shastry's (Vennela Kishore) grandmother.
In the meantime, Shankar Narayan, who has been in a coma, wakes up. And Ajay begins some complicated manoeuvres, trying to take care of a father whose health is precarious by setting up a double identity of sorts, and making headway in catching criminals as well. All this makes for plenty of stylish shoot-outs, much swaggering about in stylish shades, belting out punchy dialogues and energetically choreographed songs to boot.
In the midst of all this arrive Brahmanandham, playing an acting-obsessed house-owner, and M S Narayana, who delivers a hilarious spoof that sends the audience into splits. The veterans add some lustre to the proceedings whenever the screenplay takes a nose dive (which happens a lot).
For Mahesh, the role is pretty much a cake-walk. And he's Superman here, in every sense of the word. He occupies pretty much 95 per cent of the film, carries it on his very capable shoulders and adds plenty of panache and style to the proceedings. His comic timing is impeccable, and he manages plenty of laughs with his straight face and (occasional) accent. But more than his undeniably powerful chops, fisticuffs, and dance-moves, he impresses you the most when he's a son to his father, trying desperately to keep him in good health. These moments, when he allows himself to be vulnerable, are perhaps among the best.
Aside from him and the two principal comedians, the rest are pretty much part of the backdrop.
Samantha is eye-candy, wears towering heels that make you nervous about her balance, and tiny outfits for the foreign duets. Chinmayi is her voice, again, after Ye Maya Chesave, and it suits her well.
You wish Prakashraj had been given more screen-time, though.
Sonu Sood is more a caricature than a villain who's supposed to strike fear in your heart, and he's as silly as most villains are, taken in too easily, and fooled far too well. The rest, including Nasser, Tanikella Bharani and Co appear very briefly.
Thaman's music is a lot of sound and fury, but Nee Dookudu and Guruvaram linger in one's memory for a while.
With a star-cast this huge and a technical crew that's willing to go the extra mile, you expect a neat screenplay as well, from Gopi Mohan. And this is where Dookudu meets its biggest stumbling-block. The screenplay wanders all over the place, has huge plot-craters and so many logic-less sequences that you pretty much lose count.
Bullets fly all over the place without harming a hair of the hero's head, and the action-sequences are too many. Villains are vanquished in such silly fashion that you wonder what the point of the police investigation was.
The length of the movie makes you wish editor M R Varma had been utilised better. But who cares when Mahesh looms larger than life on the screen and leaves you no time to think? 
Rediff Rating: