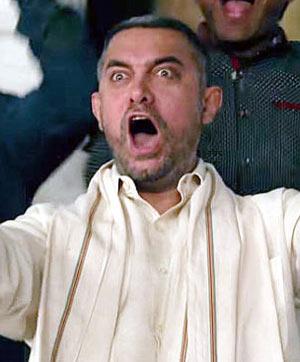 If sporting films were pitted against one another, Dangal would be champion, says Raja Sen.
This summer, India learnt the name Produnova.
An intricate gymnastic move named after a legendary Russian athlete, the Produnova is a vault so complex that only five gymnasts have actually executed it.
The Olympic gold medallist and reigning queen of the sport, American gymnast Simone Biles shuns it entirely, saying, 'I'm not trying to die.'
This is a reflection of both the systematic way in which international athletes train where they can measure the odds, and of its stark contrast with Indian athletes -- especially female stars like Dipa Karmakar, who rocked the Produnova at the 2016 Games -- and the way they face each round on the world stage with an absolute go-for-broke mentality, never sure of another chance.
Dangal, Nitesh Tiwari's film about the marvellous Phogat sisters who have won wrestling golds for India, captures this mindset brilliantly.
A film about real-life sporting champions can often be a predictable guts-and-glory tale, but instead of creating contrived points of conflict, this film masterfully brings the actual struggle into relief: The paucity of funds, the lack of opponents to train with, a belief in technique which may be dated.
The film automatically feels original.
An authentic wrestling mat becomes the subject of dreams.
A local wrestling promoter claims more villagers will turn up to see women fight than to look at lions.
He's right. The villain in Dangal is the mindset.
The first proponent is their father.
Mahavir Singh Phogat, a former national wrestling champion, wants sons to further his legacy and do what he never could, to win wrestling golds on an international level, but -- despite all the 'unfailing' plans thrust his way by village know-it-alls -- much to his chagrin, he keeps on producing daughters.
It is only when he realises girls can win golds that the epiphany drives him into a fascistic tiger-dad, pushing his daughters to breaking point. Richard Williams -- father of Venus and Serena -- had drawn up a 78-page plan to turn them into tennis legends, and started pushing his girls into the sport as early as four, later banning them from boyfriends and decapitating any Barbies that may come their way.
Mahavir Phogat, who mercilessly chops off his daughters' hair and exposes them to much jeering, gets it.
Aamir Khan plays this phenomenal character, both fascinating and flawed, a winner utterly sure of his beliefs who bends the world around him to his will. It is the performance of a lifetime, and Khan -- incredibly buff when young, proud and paunchy when old -- is sensational as he shows them the moves and imparts knowledge to the girls.
With his wrist resting on his hip like a too-full teapot, his Phogat seems always to be thinking, planning, focussing. He knows what he's doing.
Eschewing vanity and leading man cliche, Khan shows us commitment to the part and, most impressively, the ability to -- as they say in scripted wrestling -- eat a loss.
It's stunning.
At one point he asks for his nephew to help the girls train, and the boy's father confesses that he doesn't want to say yes but doesn't dare say no. This is good enough for Khan, who immediately shoves the boy into all manner of servitude.
It is this incredibly put-upon nephew (Aparshakti Khurrana) who narrates the film, his idiomatic turns of phrase lacing the well-written film with the rich, local strains of Haryanvi humour, a dryish humour so dependent on language and tone.
We are told, for instance, about an alarm clock cunningly being led astray, and, quite neatly, about the stubbornness of the god who wouldn' grant Phogat his long-desired sons.
Not that he needed them. Geeta and Babita Phogat are dynamite from the get go, a couple of girls traumatised by the training regimen until they realise that winning is better than golgappas -- which they are not allowed to eat anymore.
The two girls are played by Zaira Wasim and Suhani Bhatnagar who win us over with innocence and exasperation before showing us how expertly they move. The wrestling choreography in the film is excellent and strikingly credible, and the girls are great here, and even better when they grow up into Fatima Sana Shaikh and Sanya Malhotra.
Mat skills aside, both girls give rousingly strong performances, with Fatima's Geeta pulling off a fine, fine moment with Aamir as father and daughter wordlessly inhabit a phone conversation. He grunts, she sobs -- as may many of us.
One of the best performances in Dangal comes from Sakshi Tanwar, who plays the hapless mother, trying to strike a balance between an unyielding father and daughters who just want to be girls a little longer.
Her character, literally living between rocks and hard places, is realistically short on dialogue, but her eyes are incredibly expressive as she wears futility -- and triumph -- on her face.
The film has a fine ensemble, and a special mention must be made of casting director Mukesh Chhabra for peopling it with such authentic faces and characters who say so much even when wordless.
The film opens with a tussle in an office, and the bit actors -- the woman in pink smiling shyly at the men circling each other, the old man looking admiringly at Aamir Khan as he buttons up his shirt -- are wonderful.
In a film so evocatively muddy, it's sad to see Dangal create a cardboard villain caricature at the end, and to throw in an absurd climactic scene involving a locked door -- a bit of melodrama jarringly out of place in this grounded narrative -- but even this stumble leads to the girls finding their own way, liberated from any mansplaining. They do it their way.
Pritam's soundtrack is a solid one, and Sethu Sriram's textured cinematography oscillates between the poetic -- there is a lovely slow-motion shot of dirt from a shaking head flying across a red sky -- and the powerfully prosaic, with the wrestling scenes looking startlingly real.
This is by far the most credible an Indian sport film has ever felt, with even the commentators getting in on the action, giving most of us a tutorial in how to watch the sport.
Dangal teaches us where rainbows lie in wrestling, and while it is a celebration of true greats -- and true grit -- this isn't about one sport.
India needs to watch this film for the way it puts the 'her' in 'hero.'
Rediff Rating: