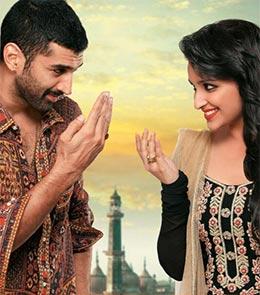 Even though its not completely the foodie feast the title suggests, Daawat-E-Ishq is a breezy exercise, feels Sukanya Verma.
Daawat-E-Ishq is like an exuberant menu of a newly opened restaurant that's eager to please with its spread of scrumptious offerings that balances crowd-favourites with substance.
While the sides are undercooked, the entree leaves an enjoyable aftertaste that owes much credit to its spunky actors and rest to Habib Faisal's crisp script and direction.
Even though its not completely the foodie feast (not for a 'bloody vegetarian' anyway) the title suggests, Daawat-E-Ishq is a breezy exercise aiming to bring forth the evils of dowry -- responsible for the despair of countless woman in the country even after being declared as a criminal offence since 1961 -- without going the harsh or soppy route (Yeh Aag Kab Bujhegi, Jawani Zindabad, Mehendi).
Instead, Faisal and co-writer Jyoti Kapoor parodies the whole business of marriage with deadpan humour.
Both the parties involved, boy and girl's, are matter-of-fact about the heinous practice wherein the boy's family list their demands or in case of a more diplomatic approach sugar-coat this requirement as 'help' to provide for the boy while the girl's side tries to bargain over the same.
There's a clever scene where the potential bride and groom's family are haggling over the dowry sum in an open food court, the groom 'magnanimously' proposes a reduction in the amount. Just then a banner announcing 70 percent discount strategically rolls out against the mall building in the backdrop.
Anupam Kher plays a feeble father hailing from Hyderabad who wishes to 'thikane lagana' his smart, educated, independent daughter, Gulrez aka Gullu (Parineeti Chopra) to a suitable boy before he retires from his modest clerical post. The irony is he works at the High Court and is fully conscious of the terrible repercussions of such an engagement. But a creature of conditioning he's too gutless to protest.
Now this 'thikana lagana' mind-set that many Indian parents, even well meaning ones, harbour for their daughters is the root of most problems. It fuels greed in one and breeds inferiority complex in another. Though Daawat-E-Ishq doesn't quite get into that space, I am glad Gullu's dad brings it up, gladder with Gullu's response.
An unpleasant episode with a guy (a bland Karan Wahi) she intends to marry leaves a bitter taste in her mouth. She resolves to use the same institution that humiliates her as a tool namely 498a to achieve her ultimate dream -- the numero uno destination for many desis -- Amreeka.
To realise this, Gullu and her dad change their identities to Sana and Shahryar Habibullah and arrive in a fancy hotel of Lucknow to search for the ideal scapegoat. This unsuspecting target turns out to be Tariq Haidar (Aditya Roy Kapoor), a fabulous cook running a hugely popular eatery thronged by celebrities and foreigners for its succulent kebabs and flavourful phirni.
This is where Daawat-E-Ishq leaves the realm of reality and slips into caper mode. But then given the indignation she's had to suffer, her cunning (and a tad too comfortably crafted) scheme may seem audacious but not entirely misplaced.
From Nizams to Nawabs, the lovely landmarks of Hyderabad -- Charminar, Hussain Sagar and Nehru Zoological Park make way for Lucknow's grand Bara Imambara, Rumi Darwaza and bustling Aminabad, showcased in a surprisingly lacklustre manner in Himman Dhamija's cinematography against Sajid-Wajid's occasionally dragging soundtrack.
Daawat-E-Ishq makes up for many of its cinematic imperfections and half-baked explorations with infectious charm, platefuls of it.
The father-daughter relationship is a warm one where she doesn't hold her father's meekness against him.
On the contrary, she coaxes (okay bullies) him to play along in a situation that's easily the greatest adventure of his timid existence.
Kher gives his character, especially the one of Shahryar Habibullah, a comical nervousness that's goofy yet endearing. His snappy row with Aditya Roy Kapoor is marked by some witty ones from Faisal, like the one where the latter brags, "Poora Lucknow meri Impala pe marta hai," Kher retorts, "Poora Lucknow tumhari Impala se marta hai."
And Kapoor, I am impressed.
No longer self-conscious, tepid or droopy, the man shines as the robust Tariq. On the surface, everything about his look screams garish flamboyance that's aimed to put off but the rom-com relies on him to articulate a sincerity that will blur the kitsch and render him likeable, even attractive.
Save for a slight Hyderabadi parlance in her speech, the dynamics of Parineeti's role aren't all that new. She's defied before, she's schemed before, and she's given into wild impulses before.
But whether she's inquiring about turning black money into white or asserting a woman's right to retain her surname after marriage, its her pluck and effervescence that gives Daawat-E-Ishq the courage to push the plot in a tricky direction in its third act, see where it goes and yet pull off a win-win conclusion.
Implausible but take it with a pinch of salt.
Rediff Rating: