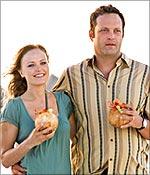 A comedy hit Couples Retreat did not seduce many reviewers but the movie, which marks the debut of A R Rahman in Hollywood, grossed about $160 million worldwide.
This is one of those movies that make the snobbish critics sulk while the producers are busy moving millions into their banks.
The film is not a laugh riot but it is good for a time-pass evening. There is hardly anything that will upset a family of college bound children. But it is not to be weatched with kids below 16. The deleted scenes and several other extras offer a genuine bonus.
Producer-turned-director Peter Billingsley has extracted decent performances from a talented cast.
The romantic comedy, in which four couples with midlife crisis take off to an exotic vacation only to realise that they have to work very hard and bond with each other before attaining their marital goal, brings together actors and writers Vince Vaughn and Jon Favreau, who team up after their '90s career-making cult hit, Swingers.
The cast includes Kristin Bell (Forgetting Sarah Marshall, and TV's Gossip Girl ), Jason Bateman (Up in the Air, TV's Arrested Development) Kristin Davis (Sex and the City), Faizon Love (TV's My Name Is Earl), and Jean Reno (Da Vince Code, Hotel Rwanda)
Each couple has its own problems: one is unhappy because they haven't had a child, another are unhappy with their parenting duties and complain that they have little time for romance; wandering eyes cause a problem too, and an older man dating a bimbo is not sure how he should proceed.
'Fans of romantic comedies, and comedies of manners, will be delighted at the snappy interaction among the actors, and the zingers delivered by the script,' wrote reviewer A T Hurtley. He is among a handful of critics who liked the film.
Among the surprises in the film is the French actor Reno who is deadpan face in many situations but adds a lot of laughs as New Age director of the retreat.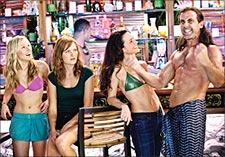 Rahman has composed a decent theme song, and a number with an Indian melody but coming in the wake of Slumdog Millionaire this is film is not a major triumph for him
Extras: Some of the funniest moments on the DVD and Blu-ray edition include the scenes that speculate what would've happened had the men been left off on the island, there are extra therapy sessions and the scenes of some cast members and director Billingsley checking out tantric yoga poses that may provide laughs in the movie.
Billingsley, who started his career as a child career, told  Entertainment Weekly why he thrusts his derriere in Jason Bateman's face during that yoga class: 'I did an episode of Little House on the Prairie with Jason when I was about 9-years-old. In that particular episode, I had a speech impediment, and his character laughed at me and made fun of me. So I think that was payback almost 30 years later.'