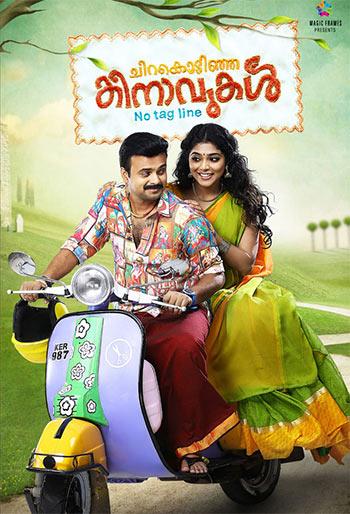 Chirakodinja Kinavukal doesn't lampoon any superstars or directors, but it does make fun of cliche-ridden films, says Paresh C Palicha.
Several films have lampooned superstars who have an iron grip on the film industry and who stopped talented people from making a mark.
Chirakodinja Kinavukal, starring Sreenivasan and Kunchacko Boban, doesn't lampoon any superstars or directors, but it does make fun of cliche-ridden films.
N P Ambujakashan (Sreenivasan) is a character from the 1996 film Azhakiya Ravanan. He was a tailor who had written an autobiographical novel titled Chirakodinja Kinavukal and wanted it to be made into a film.
Debutant director Santhosh Viswanath and writer Praveen S show him fulfilling his wish in Chirakodinja Kinavukal.
Director Lal Jose narrates the back story for our benefit and then Ambujakshan appears and narrates his script to a producer and a director, played by Sunil Sugatha and Manoj K Jayan respectively
We can say that this film tries to be funny from the word go by presenting the writer and the director as copycats from when they wrote their school exams, and presents them as remake artists in the credits .
The list of cliches starts even before Ambujakshan starts telling his tale. The threesome in the hotel room makes fun of directors who senselessly add alphabets to their names to bring them luck, and those who want to be known as Yuva (young) director.
Even the audience is not spared. It is called the "slave of habit", refusing to accept anything new.
Now Kunchacko becomes the hero, the tailor and his 19-year-old love Sumathi played by Rima Kallingal (spoofing the fact that the leading lady may be double the age of the hero but is still called a teenager).
The film also spoofs the tendency of the lead actor to always have a friend (here it is Gregory Jacob), whose sole reason for being in the film is to get slapped or kicked once in a while.
He is so inconsequential that he is interchanged with another actor halfway through, when a trade union imposes a ban on him.
If nothing else, this film is an ego trip for Sreenivasan, as a subplot created by him 20 years ago, and the character performed by him becomes the inspiration for the younger generation to make a new film and offer him a pivotal role in it.
For a viewer, Chirakodinja Kinavukal is a 'laughathon' from the word go.
Rediff Rating: