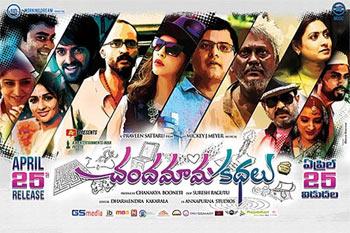 Chandamama Kathalu may be slow and without the regular commercial ingredients but the film has its moments, says Radhika Rajamani.
Anthology films are rare in Telugu cinema. Director Praveen Sattaru has attempted this genre and strung together eight stories about real life people and incidents in their lives, their moments of anguish, despair, triumph and hope.
Writer Saaradhi (Kishore), a widower with a young daughter is looking for inspiration for a story. Sitting in a coffee shop with his laptop he realises that life itself provides inspiration. So he looks around and starts typing. Mid-way, his daughter is diagnosed with first stage cancer and he needs Rs 5 lakh for her treatment.
Mohan (Naresh), an NRI, is back in India after three decades. He meets Saritha (Aamani) who has lost her husband. Her two sons want her to live with each of them for six months. Mohan and Saritha had once been in love but could not get married. Theirs is the story of getting a second chance.
Lisa Smith (Lakshmi Manchu) is a super model trying to grapple with the sudden decline in her status. Ashraf (Abhijit) runs a small grocery store where Haseena (Richa Panai) is a customer and they fall in love. But her parents find a match for her in Dubai.
Venkateswara Rao, a fat guy who is an IT professional is frustrated as he fails to find the right girl to marry.
Chaitanya Krishna loves his classmate who is a politician's daughter. But there is more to him than this.
Raghu (Naga Shaurya) is forced to marry a girl in his village and later come to the city. Then there is a beggar played by Krishneswara Rao who aspires to buy a house for Rs 12 lakh!
Director Sattaru manages to weave together these stories that are of ordinary lives.
The screenplay moves back and forth in time, and this is sometimes confusing. Some of the stories are dealt with well, others are not.
The story of Mohan-Saritha, the beggar and the writer stand out while in Lisa Smith's case the downfall is not explained too well.
The actors perform well. Naresh looks cool as the NRI with the salt-pepper beard and an accent. Aamani provides good support as Saritha. Lakshmi Manchu carries off the role with panache and Krishneswara Rao made a very realistic beggar.
Technically the film is above average considering that a lot of it was shot in live locations. Mickey Meyer's background score made a mark.
With so many stories, Dharmendra Kakarala must have had quite a task at the editing table. However, he has ensured a smooth and efficient 138 minutes.
Chandamama Kathalu may be slow and without the regular commercial ingredients, but the film has its moments and is about hope.
After all, it is drawn from life and like Praveen Sattaru said, "Even the most beautiful fantasies are born out of real life experiences!"
Rediff Rating: