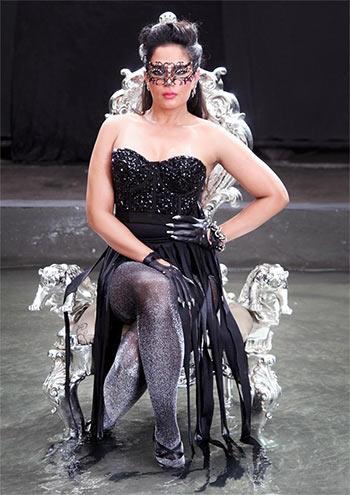 What was Pooja Bhatt thinking, wonders Aelina Kapoor.

Boring.
That's the best way to describe Cabaret's dull and lifeless music, and one wonders how director Pooja Bhatt okayed them.
The Bhatts have always given beautiful and soulful music in their films but the work of composers Kaustav Narayan Niyogi, Munish Makhija and Tony Kakkar in Cabaret is hardly inspiring.

This is evident in Sunidhi Chauhan's rendition of Paani Paani, the kind of song that would have been picturised on Karisma Kapoor in the 1990s.

A ghazal comes up next with Phir Teri Bahon Mein. Even though composer-lyricist Tony Kakkar tries to come out of his comfort zone and create a song like this with sister Sonu Kakkar, one isn't quite impressed.

Roop Kumar Rathod tries to salvage the album with Do Anjaane but this Kaustav Narayan Niyogi piece is so dated that it will put you to sleep. Meant to be a romantic number, it adds to the boring soundtrack.

Munish Makhija comes up with his recreated version of Mohe Aaye Na Jag Se Laaj. It's really a wonder why this song was chosen in a film called Cabaret. If a song needed to be recreated, why wasn't a cabaret number selected? Even singer Neeti Mohan must have wondered what to do with the Qatil Shifa written song.
Her counterpart Bhoomi Trivedi sings a forgettable song called Aakhri Shaam. It is not the kind of night club number that you would like to revisit.

Usha Uthup offers some vintage charm in Bibi Sanam, which was quite popular on Coke Studio when it was first rendered by Pakistani singers Zeb and Haniya. Though many years have passed since it was first heard, you don't mind revisiting it here.
Rediff Rating: