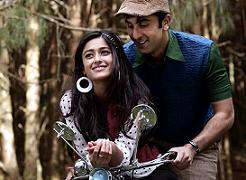 Anurag Basu's Barfi! is a well-crafted script with an intriguing back-and-forth narrative but it all goes south towards the end, writes Raja Sen

Romance is never easy. Neither is bringing it to the big screen, though Anurag Basu -- a filmmaker inherently gifted when it comes to visual imagery and metaphor -- is a fine man for the job.
He can roll up his sleeves and whip out one peachy moment after another, keeping things wonderfully endearing while poking the audience ever so forcefully in the gut with a monkey-wrench.

He is then to be commended for his latest, Barfi!, a film that admirably refuses to yank the sympathy cord. Instead, it creates genuine characters and a truly charming relationship before, alas, one of his lead characters chooses not to follow the director's example and instead mistakes sympathy for love, making for a lesser film than it deserved to be.
Barfi! might have started off a certain way, but pulls up well short and -- as we were told before the beginning of (500) Days Of Summer -- "this is not a love story."

A well-crafted script with an intriguing back-and-forth narrative -- set in the present day, 1978 and 1972 -- Barfi! intrigues, right to the point somewhere down the middle, when it becomes more than apparent exactly what the film's story is, after which all goes south. The film's naïveté starts to wear thin, previously cast spells now appearing repetitive as the movie tragically falls into the very traps of mawkishness and manipulation it avoids so, so adroitly through the start.

Basu has always been a very solid storyteller, but here the germ of the story -- the very chunk of plot the film is woven around -- is what lets him down, proving to be predictable and ineffective, paling in comparison to the dreamy dalliance he forges so smoothly early on.

And yet so impressive and earnest are most parts of Barfi! that one is inclined even to forgive its flawed centre; we want badly to overlook the film's peach-seed heart, and concentrate on the rest of its juicy joys. And these it provides in abundance.

Named after the once-ubiquitous old-timey Murphy Radio sets, the deaf-mute Murphy is born in Darjeeling to a chauffeur and his wife who dies moments after childbirth. An exceedingly sprightly fellow -- the sort who would constantly whistle if only he could hear himself do so -- the film's leading man has much silent-movie charisma as he, goofily and gorgeously, wins over everyone from townspeople to audience members. He introduces himself with an eventually shrill but sweet "brrpheee" sound, and thus the world calls him Barfi. And one fine, bracing afternoon, this Barfi falls quite madly in love, hook, line and sinker.

The object of his affections is a young Bengali girl new to Darjeeling, and from what we see and the loving way Basu and his superbly fluid cinematographer Ravi Varman capture their actress, we can't blame the boy an ounce. Shruti Ghosh -- a striking girl with disarming, Bambi-sized eyes -- is soon grateful for Barfi's magic touch, and the chord the two strike, as they share bicycle seats and horse-saddles, is one of rare tenderness. Yet all is never as idyllic, and there is much concern, involving engagement rings to the kidnapping of an autistic young woman called Jhilmil (which is that central plot, fashioned purely out of hokum.) And things change gears faster than Barfi or those of us rooting for him would like.

And Barfi's as irresistible as they come. Played by Ranbir Kapoor with that marvellous abandon which is increasingly marking him out to be a truly special leading man -- his shoulders well outgrowing those of (all) his A-list peers and rubbing now alongside actual acting heavyweights -- his Barfi is a treat, a bushy-tailed hero with a highly infectious spring in his step. There is a natural grace to his klutziness, and he does very strongly indeed with this Chaplin-tribute role, bestowing his character with heart every step of the way. To paraphrase the radio hoarding seen in nostalgia-tinted Darjeeling, Kapoor's Barfi "sets the standard."

It is a bravura performance, highlighted by a particularly vulnerable outburst where Barfi momentarily drops the smile and would really, really like to yell.

Ileana D'Cruz, as the pretty Ghoshling narrating the film, does brilliantly. Her character is a trickily nuanced one, simple yet committed, indecisive yet brave, and the most real of the bunch, and she makes it work, using the silences expressively, heartbreakingly well, and really making her romance with Kapoor magical. A scene where the two kiss, as wordless as the rest of the film, is a moment of absolute perfection.

Rupa Ganguly does well as Shruti's mother -- even though I personally suspect her one dramatic line is a convenient fib --and Saurabh Shukla is great as a heavy, harrowed cop.

As Jhilmil, Priyanka Chopra, god bless her soul, does indeed try valiantly to play autistic, but -- trapped not just by the film's most flawed character and plotline -- makes that cardinal mistake expressed so unforgettably in Tropic Thunder: she goes full retard. She's not bad, even very effective in a couple of scenes, but her character belongs to a different film. (Ideally a shorter one, because it does drag this one down.)

Barfi, Shruti, Jhilmil… The warmth doesn't stop there. A police station is called Sleep, a shelter is called Smile. And as we see a fugitive hero hijack a crucial ride almost as an afterthought, it's hard not to get swayed.

Two of my favourite moments in Barfi! involve deft cinematic sleight of hand: we see a hand painting a canvas, and, as the camera pulls out, realise its not the one we assume; much later, another hand tugs on a shirt, and here too we are fooled by it belonging to another. The misdirection is skilful and pleasing, but I do wish the beautifully beguiling beginning hadn't turned out to be an example of the same.

Rediff Rating: