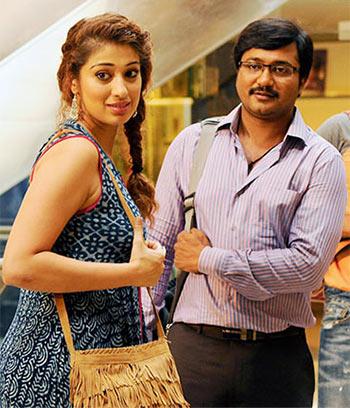 Remakes are never easy and director Bommarillu Bhaskar's Bangalore Naatkal is far from perfect but the film does have its moments, feels S Saraswathi.
Anjali Menon's Malayalam film Bangalore Days was one of the biggest hits of 2014.
Its lead actors Dulquer Salmaan, Nivin Pauly and Nazriya Nazim touched the hearts of viewers not just in Kerala but across the country with their natural charm, spontaneity and easy camaraderie.
Unfortunately, Arya, Bobby Simha and Sri Divya, who play the lead in the Tamil remake Bangalore Naatkal, fail to evoke the same feeling.
Their relationship seems rather forced and overly sweetened.
The spontaneous hugs, jokes and unspoken love between cousins is totally missing.
Despite the poor casting choices, the film does manage to keep you entertained with its refreshing premise and the ensemble cast, which also includes Rana Daggubati, Samantha, Parvathy and Raai Laxmi.
The film revolves around the life of three cousins, whose childhood dreams to have a blast in the happening city of Bangalore comes true.
Arjun (Arya) is the black sheep of the family, who escapes from home to become a bike racer, while Kannan (Bobby Simha) is a software engineer.
Divya (Sri Divya) has to put her dreams of getting an MBA degree on hold, when her parents force her to get married to Prasad (Rana), who resides at Bangalore.
Kannan gets his first posting at Bangalore and Arjun decides to join him, thus bringing them all together in the city of their dreams. The rest of film is all about the ups and downs in their life as they meet other people, fall in love and have their hearts broken.
Divya is fed up with her husband's indifference even as he is battling against the guilt of having been responsible for the death of his former lover Grace (Samantha).
Kannan falls in love with Lakshmi (Raai Laxmi), an air hostess, only to be dumped, while Arjun feels he is not good enough for radio jockey Sarah (Parvathy), a paraplegic with big dreams.
Parvathy plays the same role in the original and gives a fantastic performance.
Saranya Ponvannan, as Kannan's mother, provides some laughs but none of the others stand out.
Director Bommarillu Bhaskar has stuck to the original script but managed to cut down the run time by a good 15 minutes.
The film appears more colourful and vibrant, but drags in the second half.
Music by Gopi Sunder (he also composed for the original) is enjoyable and so is the cinematography by K V Guhan.
Remakes are never easy and director Bhaskar's Bangalore Naatkal is far from perfect, but the film does have its moments, especially for those who missed the original.
Rediff Rating: