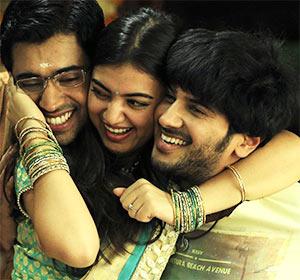 Malayalam film Bangalore Days boasts of fine performances, says Paresh C Palicha.

Bangalore Days, written and directed by Anjali Menon, stars many young stars of Malayalam cinema. But, surprisingly, the story is not a romantic one in the conventional sense.
It's about three cousins in their twenties, who dream of taking off for Bangalore and having a blast when they grow up.
Krishnan aka Kuttan (Nivin Pauly), Arjun aka Aju (Dulquer Salmaan) and Divya (Nazriya Nazim) realise their childhood dream in an unusual manner.
Divya gets married to Das (Fahadh Faasil) in a haste (because her astrological chart says that if she is not married by a certain time, she will elope with someone who is not of her religion) and settles in Bangalore.
Kuttan gets a job there in a top IT company. Aju is already there as a mechanic fixing racing bikes and imported cars.
Aju is a rebel without a cause, product of a broken home. He ran away from boarding school just before his final tenth standard exams.
Kuttan is a simple soul who would have happily looked after his father's farm, but becomes a software engineer and takes up a job in a new city because of his mother.
Divya is a cheerful girl trying very hard to be an ideal housewife and please her silent husband.

Das, a high flying executive, had confessed at their first meeting that he had been involved in a serious relationship and had agreed to marry her because of family pressure.

We expect Divya and Das to provide the twists and turns in the story. But that's not the case.
Kuttan, who was shocked to see couples getting intimate in public, initially falls for a traditional looking sari-clad air-hostess Meenakshi (Isha Talwar). This leads to some spoofing of the film Thattathin Marayathu where the two were the lead pair, and some light-hearted comedy.
Aju falls for the voice of RJ Sarah (Parvathi), who is wheelchair-bound and an inspiring personality.
The first feature film Anjali Menon directed was Manjadikuru where children get a perplexed view of the adult world.
Bangalore Days can be seen as an extension of that, where those children are grown up but still want to hold on to their childhood.
Performance wise, the three lead actors get an equal share of the pie.
Fahadh Faasil excels in portraying the silent character with bottled-up emotions.
Parvathi plays this motivating character, but one feels she would have been more credible if she had shown moments of pain or dejection.
The film stretches to three hours but one doesn't feel it thanks to the even pacing.
Bangalore Days is a highly recommended watch.

Rediff Rating: