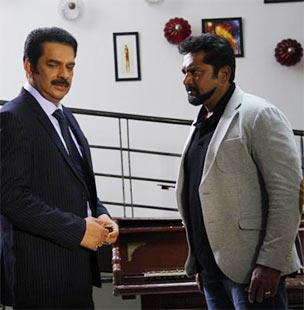 Asha Black is so heavy with messages that the story or narration takes a backseat, writes Paresh C Palicha.
Nobody knows why Malayalam directors come up with the bleakest scenarios surrounding new technologies. Be it the abuse of webcams, chatting with online friends, or the use of smart phones, they thrive on putting the fear of such things in the masses.
John Robinson is the latest film-maker to join that club. His film Asha Black shows the hazards of giving free rein to the internet and social networking sites.
Five people of Indian origin are killed in Kuala Lumpur within a short span of time. At first there is some doubt that these attacks are racially motivated. But the investigating officer Anwar Ali (Sarath Kumar), a Tamilian of Indian origin, feels that there is no ground to believe that.
As he and his team investigate the Facebook profiles of the victims, they find a common factor - all had a mutual friend with the profile name 'Asha Black'.
Parallel to the investigation, an online romance blooms between 'Asha Black' and Coimbatore based young musician Rohith (Arjun Lal).
Asha (newcomer Ishitha) is a 17-year-old girl addicted to making online friends and chatting with them 24/7. Rohith falls in love with her and decides to go to Kuala Lumpur and meet her on her eighteenth birthday.
We are taken on a guided tour of the dark alleys of the worldwide web, showing how unmonitored use of the internet by young adults can make them prey to murky people who are supplying pornographic material on the Net. Or how unloved and neglected children become victims of sex abuse.
Asha Black is so heavy with messages that the story or narration takes a backseat.
The director wants to drive home the point in case we missed knowing or reading about it.
Sarath Kumar plays the efficient cop and a father who dotes on his teenage daughter. He is the hero of the film though he was relegated to the background in the publicity drive of this bilingual film, simultaneously released in Tamil as Nee Naan Nizhal.
This film was promoted as the comeback vehicle for Arjun Lal, who had played the role of Mohanlal's teenaged son in Thanmathra around a decade ago.
Lal goes overboard in his efforts to impress us playing a character that is much younger than his actual age. He does have a screen presence, but he still has to learn how to act naturally when camera is rolling.
Manoj K Jayan, who appears in an extended cameo in the second half, as a cabbie in Kuala Lumpur, makes little effort to get out of his comfort zone.
Message or no message, Asha Black is not a very interesting film.
Rediff Rating: