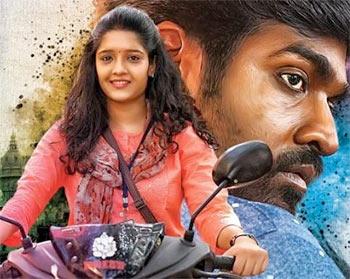 S Saraswathi recommends the fun film, Andavan Kattalai.
After the super success of Kaaka Muttai and Kuttrame Thandanai, director M Manikandan returns with yet another brilliantly crafted film titled Andavan Kattalai.
Starring Vijay Sethupathi and Irudhi Suttru fame Ritika Singh, the film tells a fun-filled tale of a debt-ridden accountant from Madurai attempting to work in London using a fake passport. Though a light-hearted entertainer, the film carries a subtle but significant social message.
The director, without any lengthy sermons or excessive melodrama, gently suggests that one should go through the proper channels and follow rules, instead of encouraging bribes and shortcuts.
Gandhi (Vijay Sethupathi), an accountant from Madurai, has pledged his married sister's jewels to take a loan.
Frustrated by the continuous taunts of his sarcastic brother-in-law, Gandhi decides to settle down in London, where he believes he can make a lot of money to pay off his debts.
He travels to Chennai, where he meets a broker, who promises him a passport and visa for a hefty fee. All documents are prepared with false information and the broker manages to get him a passport eventually. But Gandhi is denied a visa.
He is too ashamed to go back to his village and decides to work in the city and try for a visa again.
He starts working as an accountant for a drama crew headed by a kind-hearted gentleman (played by veteran actor Nassar).
He earns his trust and life begins to change.
Incidentally, he also gets an opportunity to travel to London but false information in his passport now begins to haunt him. He has to find himself a wife named Karmegha Kuzhali.
The talented Vijay Sethupathi once again delivers a wonderful performance effortlessly slipping into this character that continually vacillates between good and bad.
Yogi Babu, as Vijay's friend Pandi, delivers the funniest dialogues with a straight face keeping the audience in splits throughout.
The film is packed with interesting characters like a Sri Lankan refugee Nesan, drama artist Aarthi (Pooja Devariya) and house broker (Singampuli).
Every scene keeps you hooked with its surprising simplicity and ordinary actors, who have lived their characters.
The director once again delivers big time with a refreshing screenplay loaded with reality and fun, some great music, delightful characters and brilliant all-round performances.
A total entertainer with a subtle message, director Andavan Kattalai is not to be missed.
Rediff Rating: