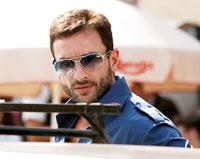 Raja Sen feels Agent Vinod is more of a video game material than a film.
If only
Agent Vinod
were a video game. It has all the hallmarks of a classic: from explosive wall-to-wall action to various levels of globetrotting mayhem, from challenging moments of hand-to-hand combat and clue-hunting to an eclectic slew of fascinating side characters, from a helluva background score to, quite vitally, the fact that it doesn't end where it should and instead keeps giving the protagonist more to do.
So yes, as a game it'd be sensational, and tremendous fun. As a film, on the other hand,
Agent Vinod
must be termed a disappointment, a slick and well-produced throwback to the spy thriller that feels both overlong and under-conceived. Sure, it's glossy and gun-filled and looks shiny enough to be from Hollywood, and while that might be Farhan Akhtar's wet dream, one expects both a sense of humour and, most critically, actual cleverness from Sriram Raghavan. Coming from the man who made the marvelous
Johnny Gaddaar
,
Agent Vinod
is too depressingly generic to be celebrated.
The essential problem lies in the characterisation of Saif Ali Khan's titular protagonist, an unconvincing secret agent suffering from mood swings, saucy and wink-filled in one shot, dour and stony in the next. He's both nonsense and no-nonsense, a flawless leading man morally incapable of doing wrong and sartorially incapable of a hair out of place. So cool for school is he, for example, that even when drugged and being slapped around with his head shoved in a pool, his white shirt stays firmly tucked into his trousers. So much of the film is sadly compromised by making the leads look good - but perhaps that's the price we pay for actor-producers.
Kareena Kapoor, more assured of her own attractiveness, goes the other way and actually relinquishes the spotlight -- dancing a mujra alongside a woman (Maryam Zakaria) who is both a better dancer and undeniably more fit -- but her character Irma (La Douche?) is even more of a disappointment. A Pakistani secret agent who talks a big game but is content playing a distressed second fiddle when the man's around, her utter inability to kill people – because good girls aren't killers, the film implies -- even in self-defense,
makes for a heroine who can never quite keep up.
Agent Vinod
wants to be funny, and while there is the occasional burst of wit, it's exhaustingly rare. Sriram Raghavan is, first and foremost, a film fanboy, and sure this film has references sprinkled through it - the greatest salutes being to the 1978 Don, with a mention of that immortal character's dislike of a person's shoes, and with inconveniently dead Iftekhaars who are the only ones aware of a protagonist's true allegiance - it doesn't make the cut. The smashing retro-loving background score by Daniel B George does what it can, but Pritam's songs feel out of place, as do some of the gags. A particularly great one, involving a Charlie Chaplin film, is let down by some abysmally sloppy editing.
And yet, while I rally against this film's multitude of flaws, I will gladly concede that it nudged me into smiling more often than most Hindi films do. That there are moments of actual whimsy, that the supporting cast is very solid: especially Ram Kapoor, here referred to as Bud Spencer; the highly nuanced Adil Hussain who we should see in many more Hindi films; Prem Chopra, always a pleasure, featured here alongside old photos, a la Dharmendra in
Johnny Gaddaar
, and then there's the homage-y casting of the head of Indian intelligence, here played by BP Singh, the director of television's long running CID, a man used to telling on-screen detectives what to do.
Why
Agent Vinod
would work as a game despite (or maybe aided by) its flaws is because in a game, we need the hero to be essentially blank, an attractive shell we, as players with joysticks in hand, willingly flesh out by making into an extension of our own personality. In a film (and especially a secret agent film, for Bond's sake!) that combination of character, personality and plot needs to dominate us, amuse us, win us over, take us on a ride and seduce us.
Agent Vinod
may be the best looking actioner we've seen, and Sriram Raghavan may be a unanimous choice to hold the joystick, but watching him play this particular game shows him distracted by the window dressing -- and not trying hard enough to save the princess.
Rediff Rating: