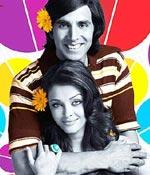 Raja Sen reviews Action Replayy. Readers can also send their reviews here.

It's been 25 years since Christopher Lloyd and Michael J Fox took that DeLorean car and blazed an imagination-burning trail through our consciousness with Robert Zemeckis' magnificent Back To The Future, a time-travel comedy with immense heart. (And one that was just released on DVD with a 25th Anniversary Trilogy box set, in case you're interested. And you should be.)

It is no small feat, then, to do what Vipul Shah has with Action Replayy. He's taken one of the film's essential subplots -- Marty McFly making his young parents-to-be fall in love -- and taken out everything else, from the time-travel rationale to the dramatic relevations and climax to the hyperclever pop-culture references, cruelly sucked out all the film's euphoria, and yet ended up with a longer film. Wow.

Bollywood, how you continue to astound.
This is, first and foremost, a tacky film. I suggest not that the film is badly produced, and indeed it glossily wears its budget on its sleeve, albeit with ill-advised pride, like that of a chubby middle-aged gentleman poured into a tight Ed Hardy t-shirt.
The screen pops with oversaturated colour, and there is much retro bling ostentatiously scattered all over the place, but the obnoxiously bright artlessness isn't the film's biggest problem. The tastelessness flowing right down into the script, however, makes for a very different league of disaster.
We open with young Bunty (Aditya Roy Kapoor, a fresh-faced, harmless lad who clearly believes an afro can make up for an innate lack of charm) convinced of marriage being evil.
Cut to his parents, Akshay Kumar and Aishwarya Rai quarreling as old folk, which translates to some highlights in her hair and him with a face apparently made of leather. It is at their 35th anniversary party, as a servant tells Bunty about his grandparents -- evidently for the first time, pointing to framed pictures et al -- and the boy meets a strange creep who then proceeds to sexually harass his father, that Bunty decides he has had enough.
Which is when he does what most of us would: pop over to his girlfriend's uncle and ask nicely for the use of his time machine. Then, while the uncle (Randhir Kapoor) agreeably sets up the travel, our young moron inexplicably hijacks the apparatus, determinedly pressing a button he isn't supposed to, and lands up in the past with no clue about getting back.
Which brings us to the 1970s. Except it isn't really the 70s, it's a free-flowing Om Shanti Om tribute -- complete with scarlet-jacketed protagonist holding a stuffed tiger and a cabaret song with an item-girl wearing the gold Helen outfit seen on that film's poster -- that doesn't even try to be original. Or funny.
At the stray moments, the background score sounds good. It's because it's borrowed from Johnny Gaddaar. So even our reference points of the 1970s are now good modern-day recreations, not classic originals; retro, just not, you know, real-retro.
The rest of the plot writes itself, or may well have. Kumar plays a buck-toothed dweeb who Bunty must turn into a 'dude,' -- reminiscent of Jaan-E-Mann, among others -- while Rai is a tomboy who needs to show her softer side.
Everything -- repeat, everything -- falls conveniently into place for Bunty, who apparently wins each lover over by just showing up. There is no drama, no conflict, no ingenuity and, really, no point.
And all of this would have been immediately forgiven had the film been a bucketful of laughs. But there isn't a guffaw in the house, with the exception of the rare grins Kumar invariably forces out of you in the second half. The writing is pedestrian. Shah sets up gags -- the scientist is called Anthony Gonzalves; there is a singing contest that could have invoked the Padosan lipsync -- but there is never a pay-off.
With the exception of a serial-killer's name, all the pop-culture references are wasted as they, in 1975, the year of Sholay's release, talk about the film as casually as we do, and Bunty wears t-shirts only of rock stars like Jimi Hendrix who had already passed on.
Occasionally he tells people things -- like when the Emergency will be imposed, or when they'll die, or calls Rai mom and Akshay dad -- but they take all this in their stride, never questioning and often believing.
Kumar tries valiantly, but it's getting harder and harder to enjoy watching the man repeat himself so shamelessly.
Rai continues to grate on the nerves, yet does appear to be enjoying herself during the proceedings, which helps. She even dazzles a few times, a sight that has become exceedingly uncommon.
Om Puri conjures up a couple of moments, while the rest of the usual gang -- Rajpal Yadav, Kirron Kher, Neha Dhupia -- make like the screenwriters and don't do much.
Even in a ripoff of a true classic, one expects it to reach 88 miles an hour and bring about at least a moment of genuine, even if fleeting and plagiarised, thrill. Action Replayy never moves out of second-gear.
Rediff Rating: