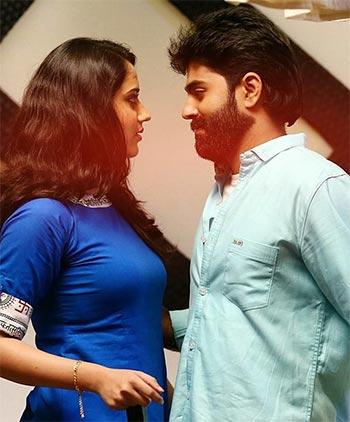 32aam Adhyayam 23aam Vaakyam is a disappointing affair because of the careless handling of the subject, says Paresh C Palicha.
Twenty-three is an ominous number because blood takes 23 seconds to circulate in the human body, there are 23 male chromosomes and 23 female chromosomes in our body and most dangerous reason being half of 46 is 23 (do not question why because no one will have a logical explanation).
This is what 32aam Adhyayam 23aam Vaakyam tries to prove by making you sit in the darkened theatre for little less than two hours.
Written and directed by Arjun Prabhakaran and Gokul Ramakrishnan, this film starts as a horror story but takes the shape of a crime thriller when it reaches the halfway point, making the viewer jaded with half a dozen twists and turns, making every character who has traversed within the frame of this film a suspect of the crime that is not yet legally proved.
The story of this film revolves around a young couple, Freddy (Govind Padmasurya) and Ann (Miya George).
He is a techie working in the US and she is a firebrand TV journalist.
Freddy has come down from the USA to celebrate their first wedding anniversary.
Their life as a couple is isolated as their marriage was against the wishes of Ann's family and Freddy is an orphan. Their social life revolves around a couple of common friends.
So much for the couple's story.
Next we see Freddy absorbed in reading a book that they had received as an anniversary gift from one of Ann's friends.
The narrator in the book requests the reader to imagine himself as the protagonist of the book and lo! we find Freddy imagining himself as John Ryan who was a photographer and had murdered his lover, thinking that she had an affair with his boss, played by Lal.
That is not all. Freddy even finds a parallel with Ryan's life as Lal is an elderly presence in his life too, and on top of that, he is very close to Ann.
The plot of this film is heavily inspired by the Jim Carrey film The Number 23 (2007).
The story shifts gears in the second half as Freddy, possessed by the book, goes in search of the dead body of a young girl who has gone missing long ago (this phenomenon can be called the Drishyam effect as far as the missing dead body is concerned).
Here a new character pops up every few minutes compounding the plot every time around thus, draining the patience out of the viewer.
We cannot expect much from the actors in such endeavours and our apprehension proves to be right in the case of Govind Padmasurya, who goes overboard in an effort to show that he can handle intense roles.
And, one question; why does he sound like Indrajith? The only reason that we can think of is that the dubbing artist may have played a prank on him.
On the other hand, Miya George looks restrained and in control when compared to her male counterpart.
On the whole, 32aam Adhyayam 23aam Vaakyam is a disappointing affair because of the careless handling of the subject.
Rediff Rating: