'Life should never be unidimensional.'
'While I enjoy doing films, there's still a lot more that I want to experience.'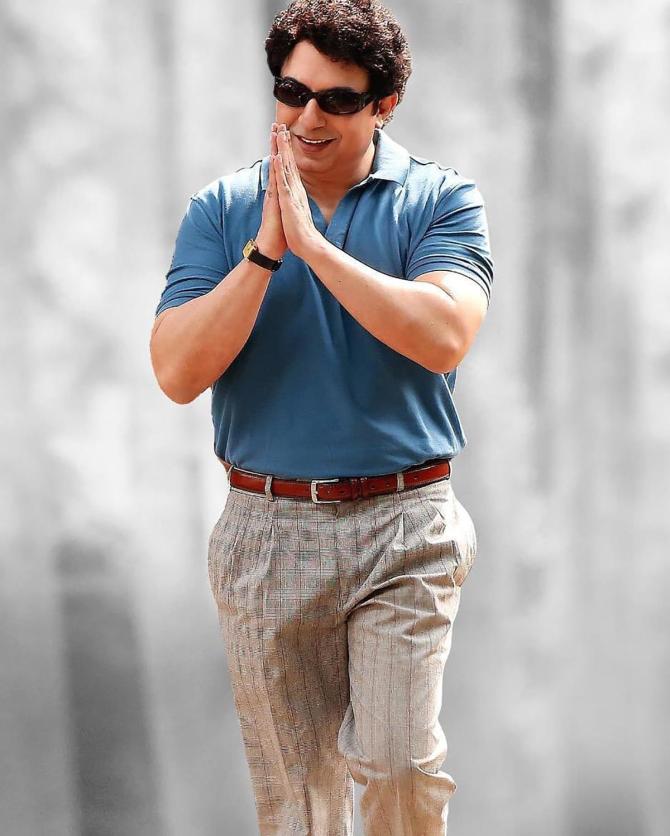 In the 1990s, he became the heart-throb of the nation after Roja and Bombay.
Arvind Swamy hasn't been seen in many Hindi films since, and after 2000, he disappeared from the screen altogether.
"The films I did earlier brought me a lot of success, but I was not in a happy place then. That was why I decided to quit the industry," he confides to Rediff.com Contributor Roshmila Bhattacharya.
The actor chose instead to run a large global business and raise two children as a single parent.
He didn't miss the arc lights, but the movies missed him because Arvind is a natural born actor.
After 13 years, he was back, to impress in film after film down south. It was as if in the time he had been away, he had only grown as an actor.
Recently, he reached out to a pan-India audience with the Jayalalitha biopic, Thalaivii, and shone as her mentor, M G Ramachandran.
"MGR was such a lovable man that it was not all that difficult to fall in love with him," Arvind asserts.
How nervous were you when you faced the camera for the first time as MGR in Thalaivii?
Well, there was the initial apprehension about how to approach this role, never having done a biopic before.
But by the time I came on the set, I was so well prepared that I was very relaxed during the making of the film and its release.
I was confident that I had given the character my 100 percent.
There was a section of the audience in Tamil Nadu, particularly those from his generation, who have seen MGR in his lifetime and still idolise him. I knew they would be my toughest critics.
Fortunately, going by the reactions, they seem to have accepted me as MGR on screen.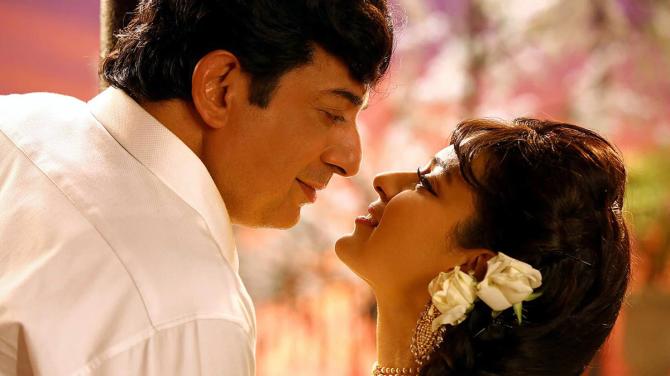 What was the biggest challenge playing someone who is such an iconic figure, both in films and politics?
The first challenge was to be visually accepted.
I knew 50 per cent of the job would be done if I could pass off as MGR.
There's little similarly in our appearances, even his body structure and body language are very different.
That's where biomechanics and certain changes in lifestyle came in.
Also, even though we have not shown his entire life story in the film, I had to internalise him to live him on screen.
But MGR was such a lovable man that it was not all that difficult to fall in love with him.
How difficult was it getting out of character once the film was finished?
It's difficult when you are playing a guy like Varadan in Mani Ratnam's Chekka Chivantha Vaanam, who is angry, manipulative and physically violent.
When you go deep into a character like that, some of the residual aggression remains even after you have finished the film.
Then, in your mind, you want to quickly kill this character, so you can get out of his dark shadow.
But in the case of MGR, I didn't mind any residue because what remains is beautiful.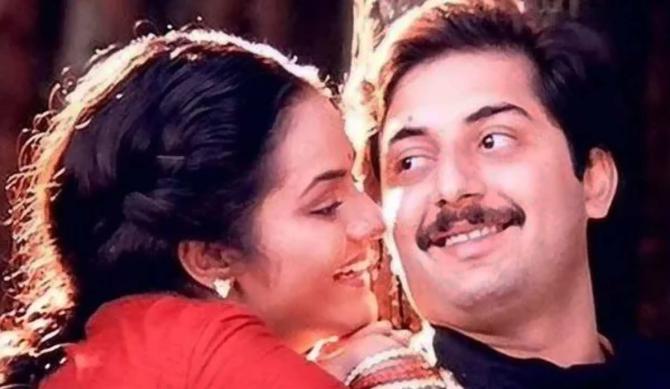 Talking about Mani Ratnam, what do you remember of his Roja and Bombay?
I have beautiful memories of both films.
They were an important part of my journey as an actor and a human being.
I was just 21 when I did Roja and around 23 or 24 during Bombay.
Roja was all about traveling with Mani, Santosh (Cinematographer Santosh Sivan) and Madhoo (co-star). We were making a small film, and we never expected it to be such a huge hit, pan-India.
By the time Bombay happened, I had grown up.
Jolted by the passing away of my parents, within six months of each other, I was more mature.
I came into the film with some of my own life experiences.
Again, it was wonderful working with Mani, Rajiv (Cinematographer Rajiv Menon) and Manisha (Co-star Manisha Koirala).
Bombay was a beautiful love story, but set against the backdrop of the communal riots.
It drained me quite a bit.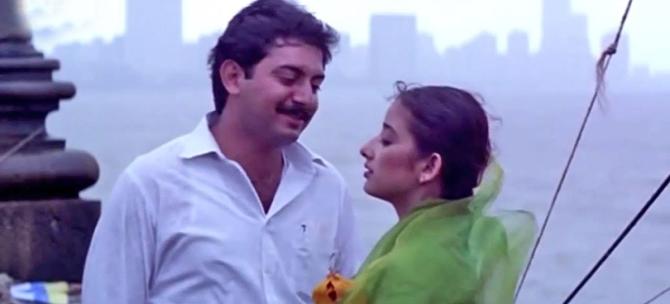 You took a break from movies for 13 years. First, to focus on your business, then, to get back on your feet after an accident in 2005 left your leg partially paralysed. Would you have done things differently if you could set the clock back?
No, I don't think so. The films I did earlier brought me a lot of success, but I was not in a happy place then.
That was why I decided to quit the industry.
I ran a large global business. I was in charge of operations and technology across verticals.
That gave me a lot of joy, as did setting up new companies.
Plus, I was single parenting two kids.
The accident was unfortunate, but it taught me a lot.
Life should never be unidimensional. While I enjoy doing films, there's still a lot more that I want to experience.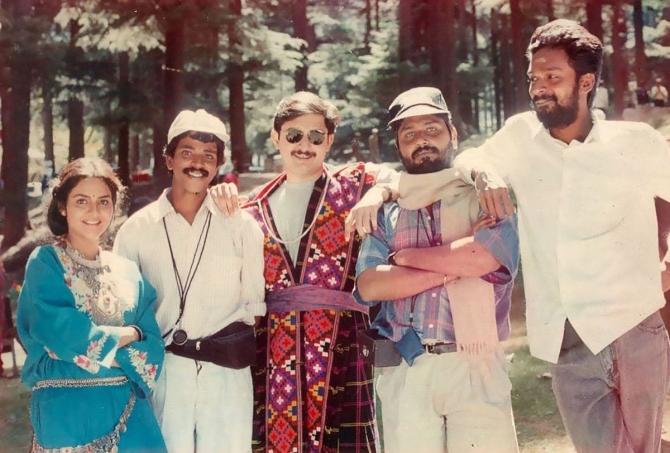 You hosted Neengalum Vellalam Oru Kodi, the Tamil adaptation of the international game show Who Wants To Be A Millionaire and its successful Hindi version, Kaun Banega Crorepati. What was the experience like?
Fantastic! I had never done television and it gave me an opportunity to understand how shows like this are produced.
Also, I got to meet and interact with interesting people from all over Tamil Nadu and hear their stories.
I did the show for a year. Television takes time and sets a different pace.
Would you be open to doing more such shows?
Well, television is a little too hectic for me, but I could change my mind later. It would depend on what I am offered.
I wouldn't mind doing a cookery show.
A cookery show?
Yes, I have been cooking almost every day since the last few years. I enjoy it.
In the last year-and-a-half, when we were home because of the ongoing pandemic, I made the biggest progress in my cooking.
My daughter Adhira is a qualified chef. She graduated from LCB (Le Cordon Bleu London, a culinary arts institute) and is a gold medalist. She worked in the UK for a couple of years, then in Spain.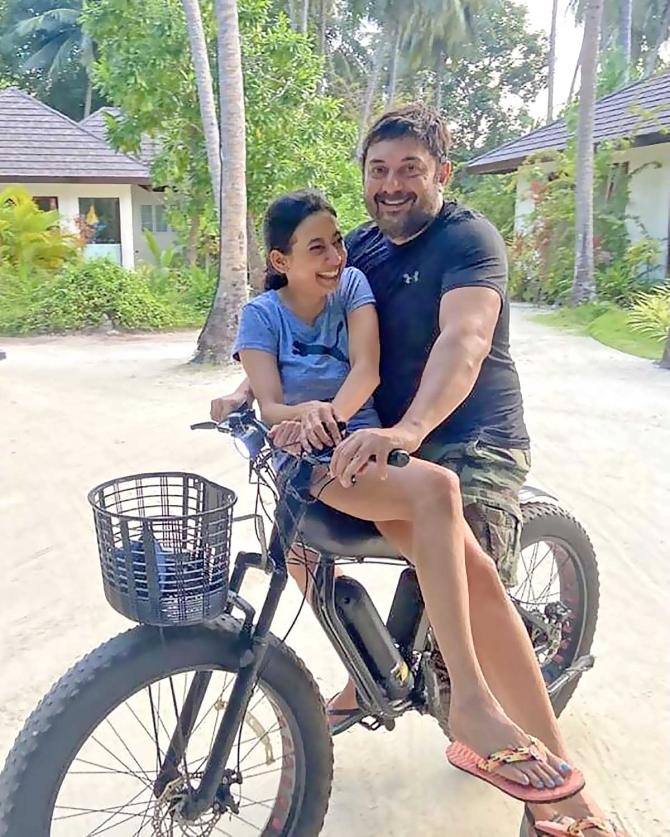 So there is competition at home?
No, Adhira specialises in French cuisine and fine dining.
I make pure Tanjore cuisine.
We enjoy each other's meals.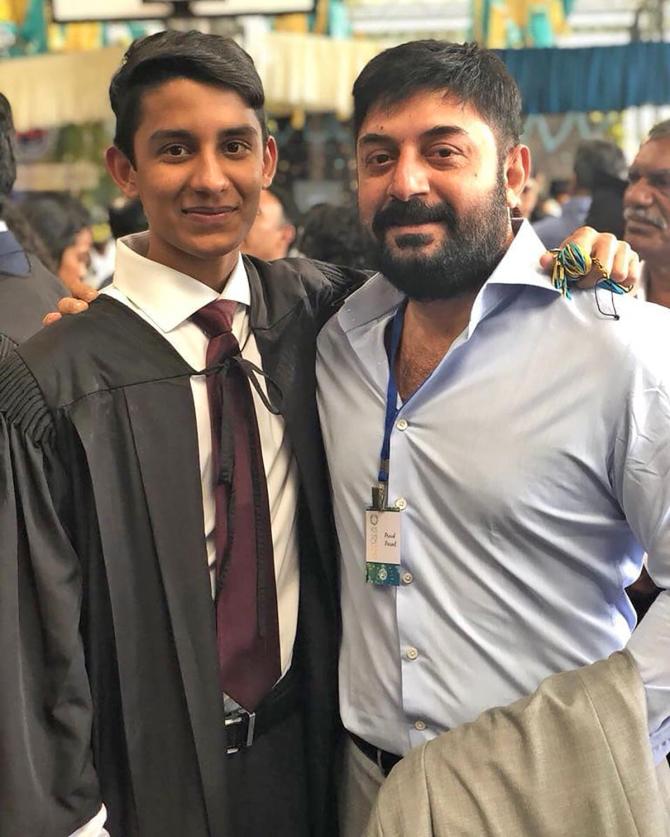 And your son, Rudra?
He is still studying.
You've written and directed an episode in the Netflix series, Navarasa. Are you planning to script and direct a film now?
Direction has always interested me, right from my first film Thalapathi.
I have been involved with all my films, from the scripting and character development stage.
I've always wanted to direct a film. After Navarasa, I think I can.
I just have to find the time and mind space to get into it fully.
I have written several scripts and I have shortlisted four.
Will you act in your next directorial too?
No, I won't. I will be happy just directing the film.
The OTT boom must be really heartening for actors like you as it has extended your reach and got you a pan-India audience?
It's fantastic and has leapt by at least a couple of years because of the pandemic in terms of viewership.
It is helping us explore more and more content.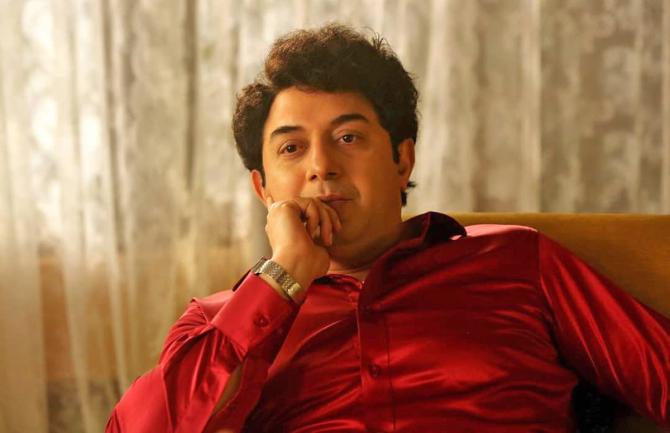 So, though Thalaivii has opened in the theatres, the film will undoubtedly find its real audience once it comes on OTT, right?
Theatres are a part of our cultural journey and history.
To show our support, we released the film in the theatres, at 50 per cent occupancy wherever it opened, because of COVID protocols.
We were aware that after the COVID second wave, people would not rush back to the theatres.
They are scared and cautious still, and that's how it should be.
But the film was made for a big screen cinematic experience. So when a window opened for us, we decided to go ahead with our initial release plan and bring it to the theatres first.
This has given us some amount of satisfaction in the present scenario. And with the critical acclaim the film is getting, I am sure we will get a wider audience on OTT.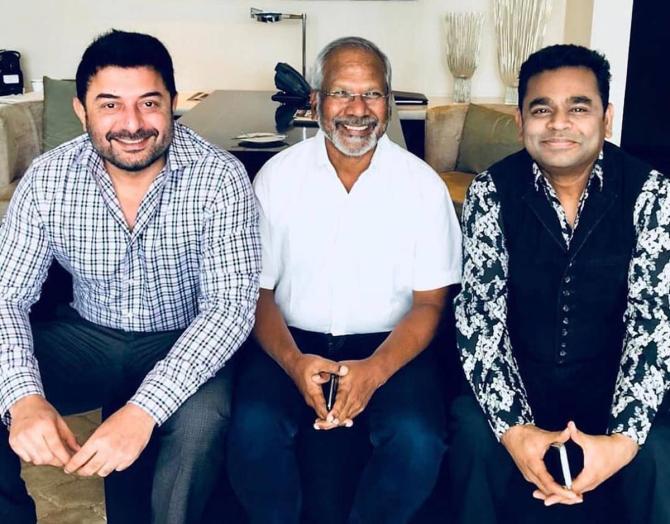 Finally, are you a singer as well?
I was into heavy metal and hard rock when I was in college.
(Laughs) I thought I was a good singer, but the people around me didn't agree.
Surprisingly, two poems that I recited for Mani Ratnam's Iruvar -- Udal Mannukku and Unnodu Naanirundha -- made it to the film's album.
More recently, I sang for Bogan.
The song was penned by Madhan Larky, whose father Vairamuthu had written those two poems for Iruvar.
So yes, I am a credited singer.