'Fire and Water are the two opposing elements.'
'One can destroy the other.'
'But if they come together and create steam, the force generated can run the motor of the world.'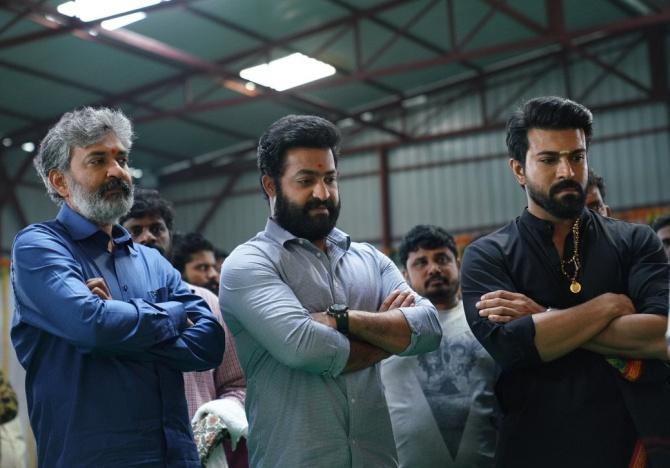 After the blockbuster Baahubali movies, Director S S Rajamouli has moved on with RRR starring N T Rama Rao Jr, Ram Charan, Alia Bhatt and Ajay Devgn.
Work on Roudram Ranam Rudhiram started in 2018 and will release in 2021.
Expectations are very high, but that doesn't worry Rajamouli.
"My mantra always had been to forget the previous film's success and start afresh," he tells Subhash K Jha.
You have a mammoth release ahead. Are you restless?
You mean restless because of the lockdown? Yes, of course!
But this is an unprecedented situation.
This is no time to keep worrying.
I strongly believe every challenge that is thrown at you has advantages if you look carefully.
I just stay alert and positive.
Your motion poster generated tremendous enthusiasm as expected. What made you decide to release it during the lockdown? What's been the response?
The dates of the motion poster and the first look were locked much before the (lockdown) situation started.
The question was whether to go ahead or not. There was a lot of deliberation.
Because the situation demands us to stay at home, we finally decided to release them.
We thought that people sitting at home will have something to watch and enjoy.
Something that would take their mind away from the ongoing stress, even for a while.
The Fire and Water concept in the poster is intriguing. Are we looking at the two heroes as representing the two elements?
Yes, that is the idea.
Fire and Water are the two opposing elements.
One can destroy the other.
But if they come together and create steam, the force generated can run the motor of the world.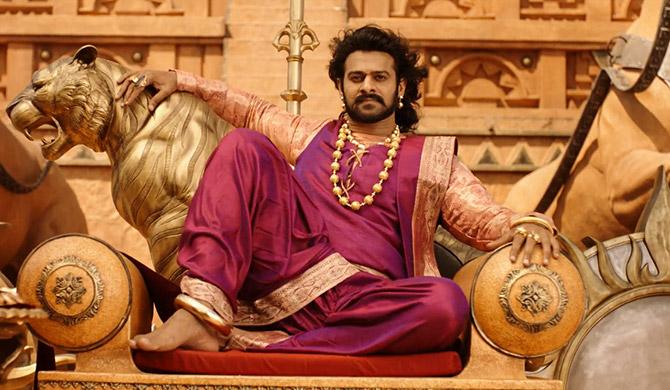 The shadow of Baahubali hovers over RRR. It is your Sholay. Does that worry you?
No, that is an advantage.
There's going to be a set of guaranteed audiences.
That is power.
Like with any power, you have to deal with it carefully.
With the film shaping up the way we envisioned, we are quite confident that it will meet their expectations.
How different have you tried to be in RRR as compared with Baahubali?
My mantra always had been to forget the previous film's success and start afresh.
I don't keep a comparative chart.
I make a story that is exciting, and then do whatever that is needed to make it the best.
Did you miss working with Prabhas? Do you intend to work with him again?
No. Working for five years together, I think we have seen each other enough.
Jokes apart, yes, when we have a subject exciting for both of us, we will definitely come together again.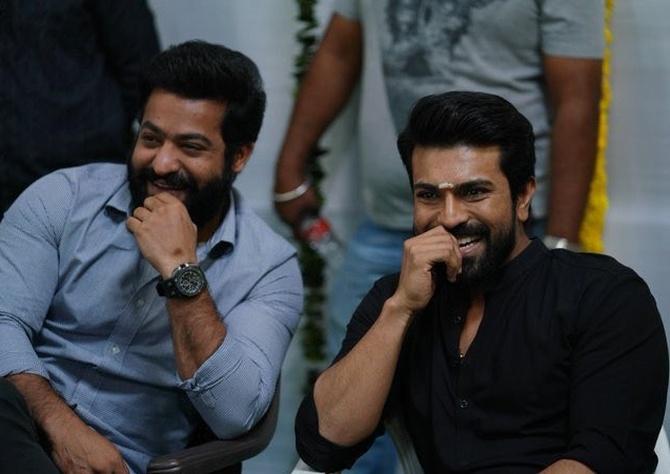 Why have you named the film RRR?
It helps to have a common title across all languages for a film of this scale.
Initially, RRR was just a working title, but it became so popular that we were forced to adopt it.
RRR stars Ram Charan Teja and NTR Jr. How difficult was it to direct two Telugu superstars in one film?
I worked with them before and we delivered some of the biggest blockbusters.
The catch here was that they belonged to traditionally rival film families. The advantage I had was that they are close friends in real life.
When I put the idea across, it didn't even take them a minute to say yes.
Before we went to shoot, we did character designing sessions.
We sketched out their characteristions to the minutest detail. They took to their roles like fish to water.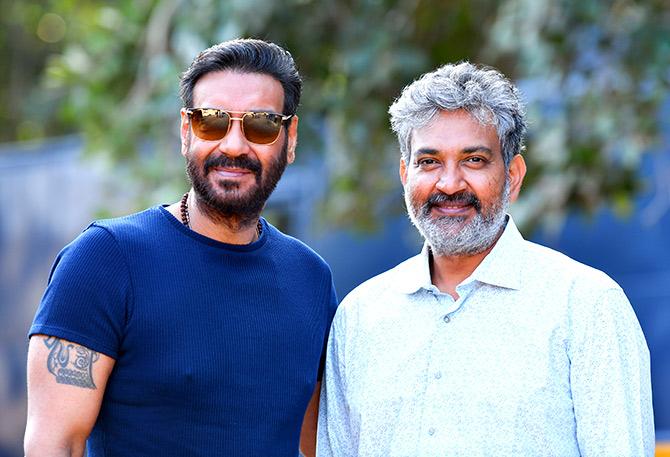 Have Ajay Devgan and Alia Bhatt been roped in for a pan India appeal? How pivotal are they to the plot?
Ajay sir's character is extremely important for the film.
I needed an actor whose face and every word that he utters oozes honesty and integrity.
I needed an actor the whole country would believe in.
We are extremely happy and grateful that he accepted the role and played it to perfection.
Similarly with Alia, I needed an actress who could stand her ground between Tarak and Charan, who are extremely talented actors.
By the way, this is not a triangle love story.
She can be innocent, vulnerable, yet be extremely resilient. That is the reason I went for her.
The shoot, which was supposed to happen this month, got cancelled due to the pandemic.
We need to rework the dates and schedules.
In large scale films, it is very important to have the perfect balance between art and commerce.
One cannot be sacrificed for the sake of the other.
By all reckoning, 2020 is a terrible year for the film industry. How important do you think is it for RRR to succeed?
I don't like to term it as terrible.
It is going to be extremely difficult.
We don't know what's going to happen or how we will come out of this.
But we will for sure. We will find ways.
It's not been an easy journey for you to make RRR. It never is easy for you, you make sure of that. Would you agree?
I disagree. It's not been hard. At least, so far.
Every project has its challenges.
We can't term them as a difficult journey.
But what happens from here would be the REAL challenge, simply because we don't know what to expect.
I am just preparing myself mentally to rise up to it, whatever it is.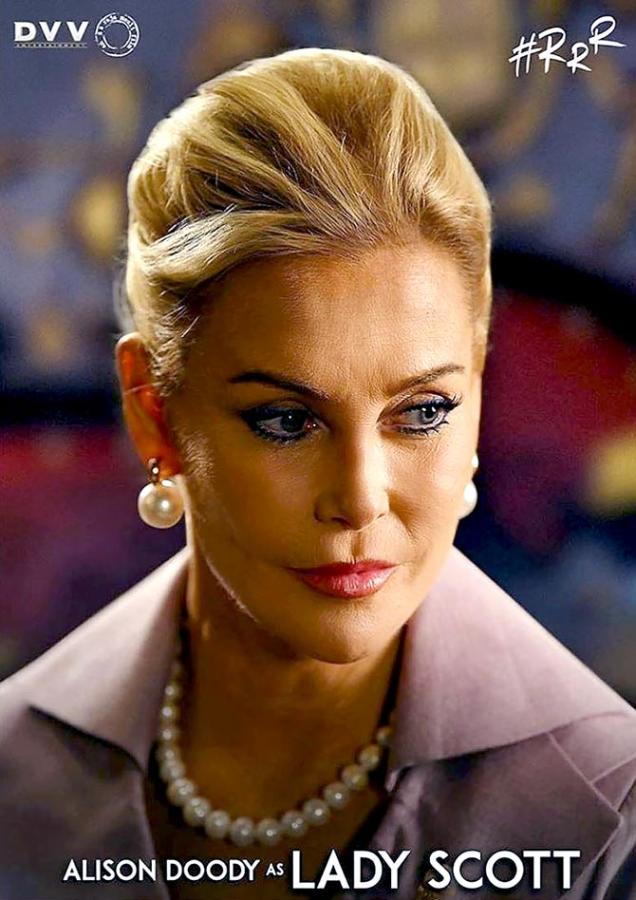 Why was it difficult getting an Caucasian actress for your film?
One, because I just didn't know how they do the casting in the Western world.
Two, because a couple of actresses had to step back due to unforeseen circumstances in the last minute. It is just bad coincidence.
We found Alison through a casting agency in London. Finally, the whole unit is happy that Alison is playing the character because she is very talented and beautiful.
Your son has joined you in making RRR.
He has been working with me for quite a long time. He became indispensable during Baahubali.
He is promoted to bigger responsibilities in RRR.
The biggest of them is to bear the brunt of my outbursts.
What are you considering making next?
As usual, I don't plan anything until I finish one project.
Your closing thoughts.
We are in an unprecedented situation.
I just want to appeal to the people to take the government's instructions seriously.
Many are doing that but a few aren't taking it seriously, and that can cause serious damage to them and the whole society.
Secondly, the health workers and the police are our protection force, our army in this war against the coronavirus.
They are risking their lives every day to keep our country safe.
They are in serious need of masks, sanitisers and personal protection equipment.
Please make donations in whatever capacity you can.