They may have walked the red carpet at this year's Oscars but Mohammed Azharuddin and Rubina Ali -- the two child protagonists of Slumdog Millionaire -- find themselves homeless and it is a matter of national shame, says Oscar winner Resul Pookutty.
"It's such a pity that kids like Azhar and Rubina are nearly homeless today and we cannot do anything to arrange for a simple dwelling for them. There are thousands of kids like them in our country who meet with a similar fate and I wish I could do something for all of them," he said.
Pookutty is associated with an NGO called Spandan, established by a group of college students in Pune. The ace technician, who won the Oscar for Best Sound Editing for Slumdog, was in Delhi to interact with a group of homeless children supported by the NGO.
The Academy Award winner declined to comment on recent accusations that Slumdog did not conform to reality and didn't deserve its eight Oscars. "I have nothing to say, people have their individual takes but the truth is in front of everyone to see. The film has received success everywhere," he said.
The sound designer from Kerala feels Indian music as a whole has gained greater global recognition post Slumdog Millionaire. "You cannot compare the acceptance from Western audiences with that of India but Indian music is not alien to the world after the super success of the film," he said.
An excited Pookutty seemed upbeat about his upcoming projects including three international ones.
"I have around six projects in the coming months which include Blue, Prince and Kamal Haasan's 19 steps, along with international projects that I cannot reveal at this moment. But one of them is a French movie. I am also considering an offer from Croatia."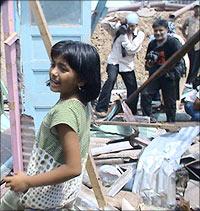 Talking about personal preferences in his work, the technician said Black and Gandhi my Father are extremely close to his heart.
"After Black, I had featured in the American Cinematography Magazine being the first Indian to do so and Gandhi My Father is emotionally very close to me. Working on it has been the most challenging till date," Pookutty said, adding, "To be very frank, technicans here always remain the unsung heroes and are never the face of any cinema, this is really sad." 
On being asked about his dream after the Oscars, Pookutty said promptly, "I want to make a film in my own language. I guess it is a dream for every individual associated with filmmaking."
Photographs: Hitesh Harisinghani