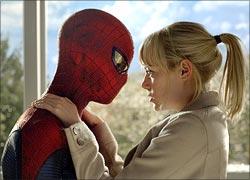 The web-slinging superhero will be back this Friday. Sony Pictures India will be splashing
The Amazing Spider-Man
across 1,000-plus screens, making it the widest release for any Hollywood movie.
So far James Cameron's
Avatar
(2009) led the pack with 762 screens, while
Mission Impossible 4: Ghost Protocol
(2011) was released on 700 screens.
Harry Potter and the Deathly Hallows-Part 2
(2011) and
Transformers 3: Dark of the Moon
were released on around 600 screens.
The 136-minute movie will be released in English, Hindi, Tamil and Telugu in 2D and 3D formats. The earlier release,
Spider-Man 3,
was released in 2007 with 597 prints and made Rs 68 crore at the box office . The first movie,
Spider-Man,
collected Rs 26.2 crore in 2002 and the second instalment collected Rs 33.4 crore with 304 prints.
Spider-Man
is one of Hollywood's most successful franchises, with a little over in $2.49 billion (Rs 11,950 crore) in worldwide receipts.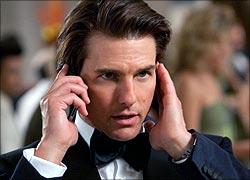 In line with the studios' strategy on highlighting the growing importance of emerging markets, Sony will be releasing the movie here a week before it debuts in North America, on July 3. Last year, three movies - Sony Pictures's Adventures of Tintin and Paramount Pictures'
Transformers III: Dark of the Moon
and
Mission Impossible 4: Ghost Protocol,
were released before their global release.
Even multiplex operators are cashing on
The Amazing Spider-Man.
In fact, most of them opened their booking last Sunday instead of Wednesday, and are having paid previews that span three days. "There is terrific buzz for
Spider-Man,
as the movie is releasing in various formats," notes Ashish Saksena, COO (south & west), at BIG Cinemas.
"The advances are looking really good, with Imax screens nearly being sold out for the weekend." In India, Sony Pictures is leaving no stone unturned for its marketing campaign, having put up several hoardings across the country. For further promotion, it has tied up with Amul Milk, MAAC, Big Cola , MTS, Kelloggs, Horlicks, Sony Mobile , Sony Electronics and PVR Cinemas.
The film, based on Marvel Comics, is a reboot of the earlier series, with Andrew Garfield replacing Tobey Maguire as the title role of the superhero. The film will portray Peter Parker as his super powers evolve in high school and will explore him trying to discover the truth behind his parents, with a theme of him discovering himself in the process. The cast includes Emma Stone as Gwen Stacy, Rhys Ifans as Dr Curt Connors and Indian actor Irrfan Khan. Most multiplex officials feel the
Spider-Man
saga could be shortlived, as it might face competition from the release of
The Dark Knight Rises
(July 20).