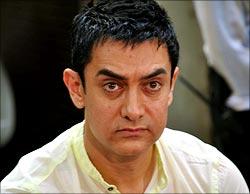 After receiving an overwhelming response since its first episode went on-air, Satyamev Jayate has got itself into copyright controversy.

Euphoria's lead singer Palash Sen, who is known well for his album Dhoom, has sent a legal notice accusing the team of having picked up the show's anthem tune from one of his songs.

"I was shocked when I heard it. In 2000, Euphoria released its second album Phir Dhoom, and one of its songs was named Satyameva Jayate. And the chorus of composer Ram Sampath's version of Satyamev Jayate is exactly the same as the chants in our song," said the singer.

"They could have asked me and I'd have agreed at one go. I wouldn't have asked for money. I would have just asked for a small credit to the band for the song," he adds.

However Ram Sampath, composer of the anthem for Aamir's TV show, refused to comment on the topic.
Photograph: Pradeep Bandekar