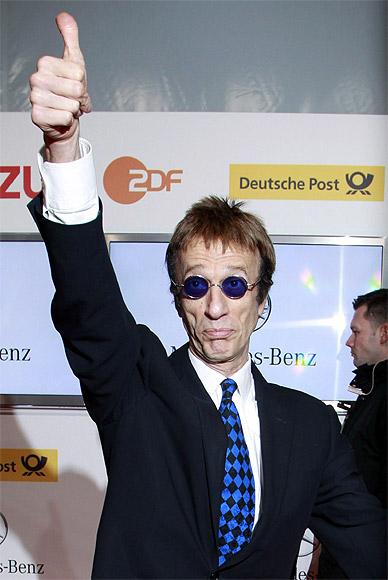 Robin Gibb, the singer who gave worldwide hits as part of the brothers band Bee Gees, has died after a long battle with cancer, leaving Barry as the sole surviving member from the group. He was 62. 
Robin lost his battle against cancer of the colon and the liver last night in Chelsea hospital here, his family said in
a statement on May 20. 
He was surrounded by his wife and children when he died.  "The family of Robin Gibb, of the Bee Gees, announce with
great sadness that Robin passed away following his long battle with cancer and intestinal surgery. The family have asked that their privacy is respected at this very difficult time," the statement said. 
Robin is survived by his sons Robin-John and Spencer, daughter Melissa and wife Dwina. 
The
Stayin' Alive
hitmaker was diagnosed with Cancer in 2010, a month after surprising doctors by emerging from a coma
after contracting pneumonia.
Robin underwent a surgery in August 2010 for a blocked intestine but a tumour was found and he was diagnosed with
cancer.
The singer looked gaunt in his last few months as he struggled against the disease. 
Robin's twin brother Maurice died due to a blocked intestine in 2003 and Andy Gibb, their younger brother who was
not in the Bee Gees, died in 1988 from cocaine addiction. 
Robin had earlier said that his illness could be payback for his success with the band. "I sometimes wonder if all the tragedies my family has suffered -- like Andy and Maurice dying so young and everything that's happened to me recently -- is a kind of karmic price we are paying for all the fame and fortune we've had," he told
The Sun
newspaper in March. 
Robin enjoyed a musical career spanning six decades, from the 1950s to his recent classical venture,
The Titanic Requiem
in 2012, penned with his son Robin-John. 
The band sold more than 200 million records and helped turn disco into a worldwide phenomenon with popular hits like
How Deep Is Your Love
,
Stayin' Alive
and
Tragedy
.
Photograph: Reuters/Thomas Peter