Just two actors on stage capturing love, jealousy, possessiveness, class issues and guilt in 90 minutes... a highly entertaining musical set in 19th century Paris.
Arthur J Pais/Rediff.com reports from New York on Love Letters and Can-Can.
Don't be deterred by the fact that the play Love Letters has a cast of just two actors who sit facing the audience, and read and reflect on the letters they wrote to each other over the decades.
For this revival of A R Gurney's 1988 play, which deals with one-way love, class barriers, betrayal and self destructive impulses, is full of heartfelt moments, some funny scenes and poignant turns that you may not notice that its 90 minutes are up.
This play was adapted into a memorable Hindi version Tumhari Amrita with Shabana Azmi and Farooque Sheikh.
This New York revival was kicked off with the terrific cast of Mia Farrow, seen on Broadway after some two decades, and Brian Dennehy.
Image: Mia Farrow, left, and Brian Dennehy perform Love Letters.
Farrow was replaced by Carol Burnett, and the show, which will play through February 1, will later feature huge stars like Alan Alda, Candice Bergen, Anjelica Huston, Stacy Keach, Diana Rigg and Martin Sheen in the lead roles.
Though seated, the actors convey love, jealousy, possessiveness, class issues and guilt by the sheer power of their voices, a few crucial facial expressions and minimal body language.
There is hardly a dull moment in this show as we witness the friendship and love story over five decades.
Melissa Gardner has been a free spirit from her very young years and yet she cannot but be drawn to the law-abiding Andrew Makepeace Ladd III.
Most often her feelings for him are mixed. When he announces his love for her, she says he is more like a brother to her.
Years later, when she really falls for him, he is a conservative politician in a dutiful but joyless marriage. She is a nervous wreck and she wants him to be the anchor in her life.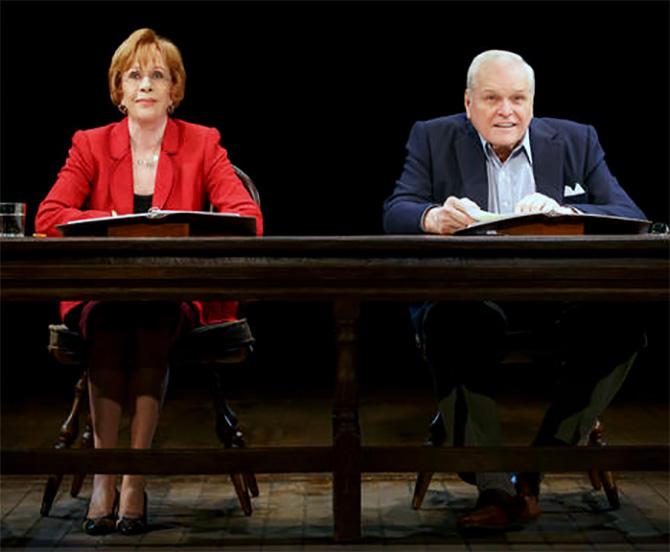 Melissa, who early in her life is more moneyed and privileged than Andy, learns that exotic locations and a busy life do not bring her happiness. Her marriages also go bust. The only stability she can dream of in her later life is with Andy, but he has no guts to stand up publicly for her.
Image: Carol Burnett, left, and Brian Dennehy perform Love Letters. Photograph: Carol Rosegg.
He cannot give up his marriage and his political career. Heart wrenching tragedy is inevitable, and in one of the very few letters which are not written to Melissa, Andrew confesses his real feelings. That letter is written to Melissa's mother.
Given there is very little movement and no props or much change in lighting, you really need first rate artists to bring out the wit, love, frustration and sadness in the two lives. If the actors are not up to it, the show is doomed.
Director Gregory Mosher has extracted brilliant work from Farrow and Dennehy, and must enjoy the chance to work with some of the brightest names in the theatre and films.
Love Letters
Brooks Atkinson Theater
256 West 47th Street, Manhattan, New York City.
***
Pistache, a gutsy Parisian cafe owner, decides to present the sensational dance, the Can-Can. Will her defiance of the law end her business, and her love affair with a puritanical judge?
Welcome to scandalous Paris at the end of the 19th century.
In the energetic and highly entertaining revival of the musical Can-Can, Kate Baldwin steals the show with several show stoppers including Allez-Vous En and I Love Paris. The performances are excellent throughout this musical even though its story becomes predictable soon enough.
The new production, which has several glorious songs including It's All Right With Me by Cole Porter, is yet another triumph for the trendy Paper Mill Playhouse in Milburn, New Jersey, which is located less than 90 minutes from New York. Can-Can will play through October 26 at the Paper Mill.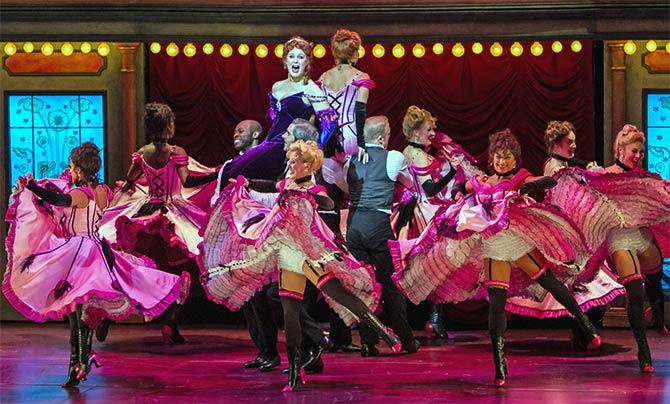 Can-Can, directed by David Lee with a keen eye on spectacle, is Broadway bound with its excellent cast intact.
Image: Kate Baldwin as Pistache and the company of Can-Can. Photograph: Jerry Dalia.
Much of the action take place in a Paris night club where customers see the shocking new dance, the Can-Can. The police arrive, periodically, to arrest customers, but it is all an act. When the matter reaches court, the police don't offer any witness help and the cases are dismissed.
A young judge (a wonderful Jason Danieley who has great chemistry with Baldwin) starts his own investigation, but he is conflicted because Pistache is a former lover and the romantic flame is lit again.
A highlight of this production is that the show-stopping songs and dances also come from the secondary artists. The lead players are surrounded by over a dozen dancers who carry out their moves, some of them highly complicated, with terrific vigour and grace.
Can-Can
Paper Mill Playhouse
22 Brookside Drive
Millburn, New Jersey 07041.