We take a look at the movies where Reema Lagoo played dignified mom characters.
Reema Lagoo's sweet, serene, soft-spoken demeanour made her Bollywood's go-to artist for playing a friendly, fabulous Ma to Generation X.
The good-natured mischief in her twinkling brown eyes and a smile that said 'I care' like few can, Lagoo marked a refreshing change from an overkill of melodramatic mommies -- the kind who could tease her offspring about the special someone in their lives, the kind who is respectful of her child's feelings, the kind no kid ever wants to let go.
We remember the late actress in this warm, winsome avatar for big screen.
Also see:
Maine Pyaar Kiya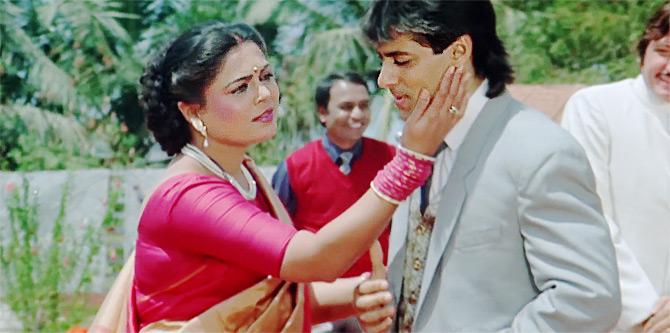 IMAGE: Reema Lagoo played Salman Khan's friendly mum in Maine Pyaar Kiya.
Reema Lagoo was barely in her 30s when she worked in Maine Pyaar Kiya. But the graciousness she exudes as Salman Khan's friendly Ma, happy to bestow her blessings on the girl he wants to marry, made her an instant hit.
Hum Aapke Hain Kaun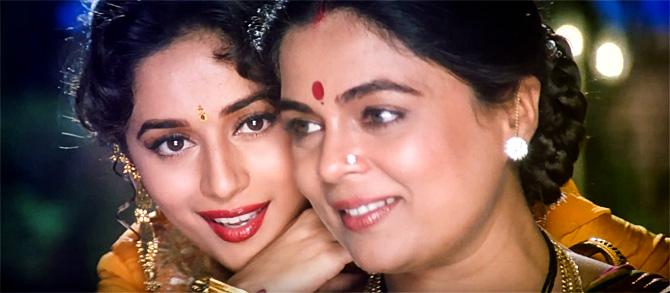 IMAGE: Reema Lagoo played Madhuri Dixit's graceful mother in Hum Aapke Hain Koun...!
A picture of desi grace and charm, Reema Lagoo beams and blushes in resplendent saris to play the devoted mum of two girls, hosting one wedding after another, in Sooraj R Barjatya's musical drama.
Aashiqui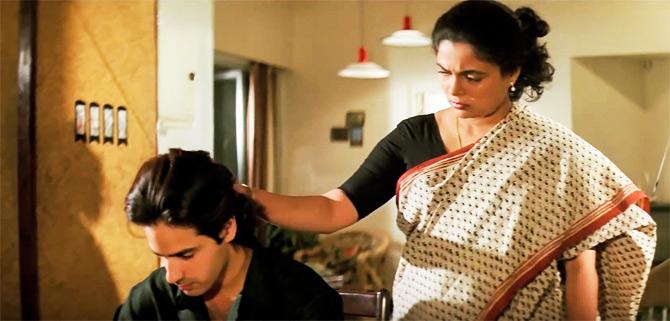 IMAGE: Reema Lagoo played Rahul Roy's mother in Aashiqui
Despite her own horrid experiences in marriage, Lagoo's level-headed mom ensures her son, played by Rahul Roy, and the girl he loves achieve the happy ending they seek with her timely guidance and admonition.
Yes Boss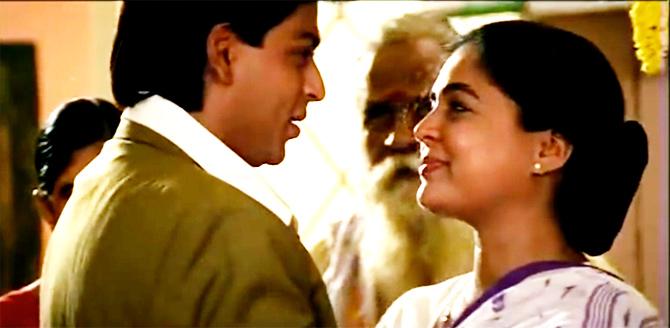 IMAGE: Reema Lagoo played Shah Rukh Khan's mother in Yes Boss
As the ailing mom who wouldn't like anything better than her ambitious son to fulfill his career dreams and settle into marital bliss, Lagoo conveys befitting enthusiasm, one that's neither shattered nor disparaging even on learning about his son and his pretend wife's deceit.
Rangeela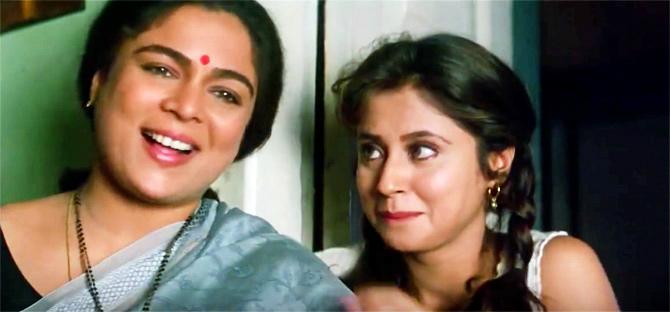 IMAGE: Reema Lagoo played Urmila Matondkar's middle class mother in Rangeela
Juggling to please her Bollywood-obsessed daughter and snappy teenage son over their rasgoola and gulab jamun preferences and dealing with constant sibling rivalry, Lagoo's mix of annoyance and affection effectively conveys the plight of the typical middle-class mom.
Saajan
IMAGE: Reema Lagoo played Salman Khan and Sanjay Dutt's pampering mother in Saajan. Kader Khan played the father.
Lagoo's maternal zeal makes room for her darling son's orphan best friend as part of their family in ways only a Hindi film can.
Hum Saath Saath Hain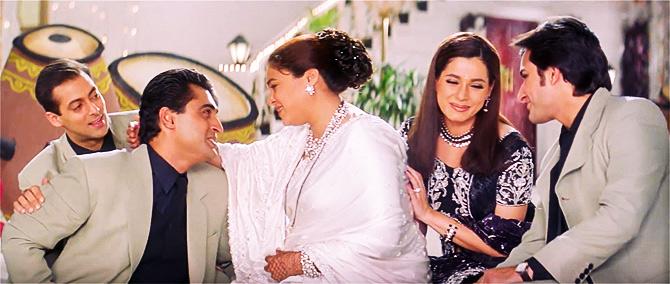 IMAGE: Reema Lagoo played Salman Khan, Mohnish Behl, Neelam and Saif Ali Khan's adoring mother in Hum Saath Saath Hain
The pretty actress basks in the adoration of her brood until compelled to pick favourites by her troublemaker friends causing much grief and guilt in the Ramayana-inspired Hum Saath Saath Hain.
Vaastav
IMAGE: Reema Lagoo played Sanjay Dutt's ruthless mother in Vaastav
Sometimes a mother has to be ruthless towards her child for sanity and justice to prevail. Reema Lagoo gets her Mother India moment in Vaastav, where in a dramatic turn of events she pulls the trigger on her outlaw son and puts an end to his miseries.
Kuch Kuch Hota Hai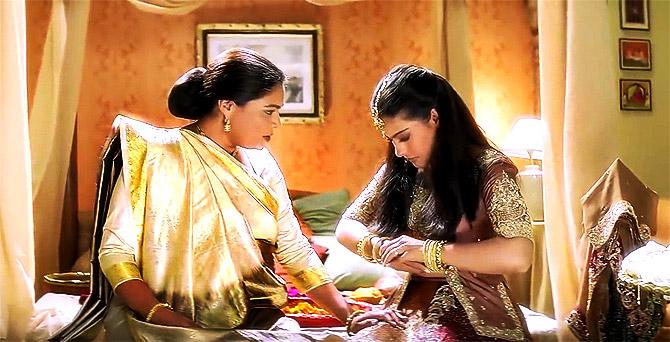 IMAGE: Reema Lagoo played Kajol's sympathetic mother in Kuch Kuch Hota Hai
As Kajol's elegant mom leaving no stone unturned to make her daughter's wedding a lavish affair, Lagoo shows quiet sympathy and concern for her child's past heartbreak as well as her to-be son-in-law's valid insecurity.
Kal Ho Naa Ho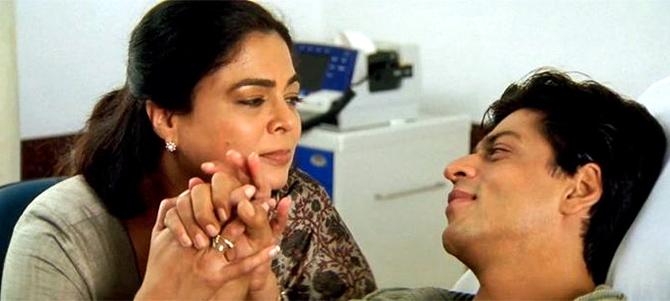 IMAGE: Reema Lagoo played Shah Rukh Khan's mother in Kal Ho Naa Ho
Where most screen mother would fill the scenes with loud shrieks of Nahiiii, Lagoo maintains a stoic composure and acceptance of her dying son's state. But it doesn't mean she's unmoved by his pain. Not a tear goes unnoticed under her watchful eye.