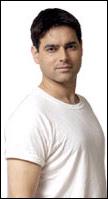 The 6'1" tall Reef Karim stands out -- literally and figuratively -- among the cast of FLAVORS. The easy grace of his performance as the goofy, quip-a-minute romantic lead Karthik signals 'professional.' And that is before you see his CV.
Prepare to be impressed: Karim speaks a host of languages and dialects ranging from Italian, French, East Indian through Middle Eastern; plays the keyboards and piano well enough to have been part of a band; is a trained professional dancer who can swing, salsa, tango, waltz and pretty much everything in between, and has performed with headline artists including Lionel Ritchie and Earth Wind and Fire.
His film credits include Body Shots, Dancing In September, Deuce Bigalow, Dot Com, the under-production Night Of Henna (where he teams with FLAVORS co-star Pooja Kumar), Laurel Canyon (with Christian Bale); and the under-production Lords Of Dogtown with Heath Ledger and Rebecca DeMornay.
He also happens to be a doctor.
Karim spoke to Managing Editor Prem Panicker in New York last week.
How did FLAVORS happen?

It's a weird thing. I have played Italians, a half-Argentinean and Sean Young's pseudo-boyfriend in the [television] serial Force Of One, a Frenchman, pretty much everything except an Indian. My brother Navine is an entertainment attorney with Viacom. He heard about FLAVORS and told me, you always wanted to play an Indian, so here's your chance.
I sent them a demo tape. Raj and DK [directors Raj Nidimoru and Krishna DK] thought it was better than anything they had seen till date. They had cast every other role except that of the romantic lead, Karthik. The only issue they had was, they wanted me to be a touch less Americanised than I actually am. I had to tone it down.
There have been Indian roles going about, though. How come you never landed those till date?
For one thing, I guess I don't look like the stereotypical cab driver. Seriously, though, I think it is only now that there is this big push, this demand for Indian guys in television and films. Otherwise it was pretty much the standard stereotypes. So I ended up playing Italians and Frenchmen and Greeks and such almost by default.
You've worked with name directors, Catherine Hardwicke of Thirteen to cite one. How did Raj and DK come across, in comparison?
 I thought the script was pretty tight. They convinced me to come on board, and that decision was based on their knowledge and the skill sets they seemed to bring to their job. Raj and DK seemed to have a sure knowledge of what they wanted. They allowed you the freedom to work on your role. But they also had their own take on what they required and the competence you look for from a director.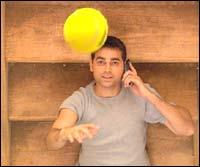 You took the role of Karthik by default, since that was the only one open. Would you have picked any other, had the choice been there?
No. If you look at my career, I usually play one of two things. Either I am the professional guy: doctor, lawyer, something like that. Very slick and articulate. It could be a good role or a bad one.
Or I play the comedic romantic lead. This role was of the latter type, so that was good. Like I said, I had never played an Indian, so that was even better. The reality is that I am an Indian, and my parents have been dying to have me play one.
There's a set-piece sequence in the film, where your girlfriend is lonely and bored and you, located in a far away city, organise an intimate roses and candlelight dinner for her. Very romantic, but it also seems like a hard act to pull off, since you have to do the scene, and conjure up the intimacy, without actually being with your girlfriend...
Yeah, the hardest part about doing that was the eye line. You are making believe you are sitting at a table opposite your partner, and having an intimate dinner and conversation, but she is not there. You still have to make believe she is, which among other things implies making eye contact with her. I fixed on a spot, about where Pooja's [Kumar, his co-star] eyes would be. And I kept returning to that. Yes, that was tricky.
Your acting schedule is seemingly full, yet you also function as a qualified, practicing, doctor. Or do you?
My life is like a triad. The first side is [an] actor. The second [side] is [a] doctor and [thirdly a] television personality. I went to medical school and graduated magna cum laude. I did my residency at UCLA [University of California, Los Angeles] in psychiatry with a sub-specialty in addiction. I am also a relationship therapist. Wearing those hats, I generally deal with sex, drugs and relationships. I worked with the LA Sheriff's office dealing with forensic cases. I worked at the Twin Towers and the LA County Jail assessing prisoners. My job was to determine who was truly psychiatric/psychotic, and who was faking it -- profiling, in other words.
One thing led to another. I hosted a show called Love Line on MTV. I did the radio version of that show, which again centres on love, sex, and relationships. That led to my working as an expert on various shows -- CBS, NBC, Fox, CNN. That in turn led to my getting more calls for forensic work. And then I landed this television series, House of Clues, which caught the imagination. Film Guide did a big feature on it. Entertainment Weekly featured it. It's just been picked up for a second season.
What is the show about?
Basically, I go into your home with a couple of amateurs. The goal is to profile you based on the way you imprint on your environment. It sort of combines psychiatry and profiling.
You likened your life to a triad, but that is two angles -- actor and television specialist. What's the third?
I am a regular doctor. I am part of the clinical faculty at the UCLA. Plus, I see private patients on weekends.
Each element in that triad seems to involve enormous mental and physical strain. How do you balance the loads?
The mental effort is the hardest part, frankly. Take this week, for instance. I shot a VH1 show yesterday and that will continue later today. Wednesday, I audition for a couple of television shows here in LA. On Thursday, I am seeing patients all day at the UCLA, and I also work as main doctor at a new celeb detox centre here. On Friday and Saturday I am shooting for House Of Clues. And on Sunday, I see private patients.
That is doctor, television personality, and actor. How much does each of these aspects feed off the other?
More than you would imagine. Among other things, I consult for the film industry. I was a consultant on Thirteen [director Catherine Hardwicke, has since cast Karim in a supporting role in the Heath Ledger-Rebecca DeMornay film Lords Of Dogtown], and a whole bunch of other films and television shows where I basically work on character development and breakdown, on how to play characters with addictions, personality disorders. I also teach directors on how to present, direct, such characters.
As a psychiatrist, I can figure out how to break the character down. Being an actor myself helps me better explain how the role can be played. Or again, when I am an actor, I use my skills as a psychiatrist to break my character down into little nuances.
For instance, Karthik, my character in FLAVORS, was written as the romantic lead. A very goofy sort of guy, not the strong kind who makes girls come to him. I constructed him that way in my mind. I sat with Raj and DK to see if my construct matched their vision, and played him that way.
The character, as you played him, is superficially light-hearted, goofy, fun loving — but there is this undercurrent, this sense that he is using the goofball image as a sort of defence mechanism…
Which is exactly how I played him. I viewed him in layers. At a superficial level, I wrote, he uses humour and a goofy outlook on life. As the second layer, I wrote, he does so in order to mask the feelings of vulnerability associated with being romantic.
You obviously had a lot of latitude to construct your character. Is that a norm on the films you have worked in?
I am totally director-driven. And through my career so far, I have been fortunate to work, except in one instance I don't want to go into, with good directors. Raj and DK had a vision, and as long as what I did fit that vision, they were fine. They might be new at this, but they had their stuff together as regards their script and their overall vision of where they wanted this to go. And within that they allowed me the freedom to play with the character, provided everything I did fit within the bigger picture in their minds.
There's even this scene where I Improv-ed a bit; I had worked with an Improv group for five years, while practicing as a doctor, and I learnt so much then. So when I was on camera and I thought I could just run with a scene, they let me do it, and there is one scene where they actually used it. So yeah, in that sense too, Raj and DK were great to work with. They knew the boundaries, but within those, they let you explore to play.
The way you tell it, you are gaining increasing recognition in each of those hats you wear --  doctor-psychiatrist, television personality, actor. Increased recognition spells more work in each sphere. There are just 24 hours in a day. At some point, do you see yourself being forced to make choices, to decide on one hat? And if yes, which?
I like every single one of these hats I wear. I love the arts. I love acting, dance and music. I used to play in a band earlier. And my parents -- both my mom and dad -- are respected doctors, OB-GYNs. They were so freaked out by it all, they flew down from Chicago to Austin, Texas, to get me. It was an intervention, totally, almost like you would with a drug addict or something. I told them I would apply to med [medical] school. If I got in, fine, I go. And if not, then the subject ends. As it happened, I graduated magna cum laude. And that is what set it all up.
Each path I have taken, each trajectory, it is all full of opportunities. Take acting, there has been lately this big push for Indian guys, in film and on television. I just auditioned for a huge film. If I get it, it could change a whole lot of things for me career-wise.
Or take television, there are hundreds of people graduating with my sort of specialty. But there are just so many young people, good looking. I say that with due concession to modesty, television-friendly. With my kind of qualifications, the opportunities are equal to or even better than acting. Say, I could conceivably aim at being the next Dr Phil.
But both these are, in a sense, sporadic acting more so than the television thing. The one thing that has a straight, fixed trajectory is being a doctor. I love that too.
It all comes down to if I had to, which hat would I chose? At this point in my life I just don't know. It depends on where the real big break comes from. If it is as an actor, then I have to figure out how to subsume my other interests to that one. How to find time to do at least some of doctoring and television while being an actor. Or vice versa, if it happens that my break comes from television.
Then again, who knows, it could be something else altogether. For instance, I teach at the UCLA -- a course called Psychology Goes To The Movies, where I deconstruct, break down films, analyse the underlying psychology of the story and the characters. Thanks to this, I got access to the directing courses at the UCLA. I did those courses, learnt that aspect of the film business as well. I have directed a music video. I am now putting together a short film, a documentary on minority profiling in the aftermath of 9/11. All that could lead to yet another avenue, another hat. Who knows?
The good bit is I am not where I have to make a choice now. When that time comes, I suspect the choice could be obvious.