Sukanya Verma feels Rascals fails to entertain.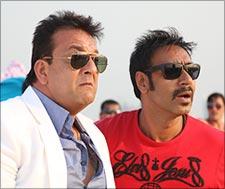 Recycling paper is nice. Recycling movies? Now that's plain lame. But director David Dhawan has never been the discerning sort. He painstakingly built his brand around cheesy, slapstick wit, resolutely steering clear of logic, relying on spontaneity and a cast skilled in comedy to accomplish the shtick to which his coterie of writers like Rumi Jaffrey, Anees Bazmee, Sanjay Chhel, Kader Khan and Yunus Sajawal have contributed immensely.
For his latest Rascals, starring Sanjay Dutt and Ajay Devgn, Dhawan sponges a bunch of comedies from his own stable and outside to rustle up a series of misadventures that are dumb, dated and dreary. But that's not its only problem. Rascals, with no structure or motive, cannot (rather does not even try to) conceal its desperation to make itself funny. And this insecurity shows in each and every gag.
What begins as a mindless laugh raiser with a set of 2D animated opening credits, quickly establishes itself as a tale of two swindlers Chetan (Dutt) and Bhagat (Devgn) (an obvious swipe on the author lacks the punch of Amar Prem), engaging in some vacuous, worn-out tricks, to steal from an unsuspecting Anthony Gonsalves (Arjun Rampal in an indifferent cameo) and win the affections of a doltish heiress (Kangna Ranaut) in Bangkok. This flake of a story, believe me or not, is pretty much the entire plot.
Unless making light of poverty, charity, handicap or a sexed-up version of Andaz Apna Apna meets Jodi No 1 meets Deewana Mastana meets Bluffmaster is your idea of a joke, those laugh lines won't budge.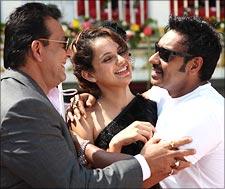 Moreover, why on earth would you want to contend with all that screeching for effect, rhyming dialogues to pinch a cackle and constant parade of zero-intellect

women with size zero bodies in a wardrobe that's as scant as Rascals' credibility?

 

And haven't enough award functions taken potshots at Sanjay Leela Bhansali's Black and Guzaarish already? Find a new punching bag, Bollywood.


Often you crave for a Govinda, a Kader Khan or a Johnny Lever to drop in and elevate this drivel to an acceptable level of idiocy. Instead you get a super annoying Chunky Pandey and Satish Kaushik, with their false accents and ridiculous get-ups jostling your senses to evoke a titter.

 

Of its actual cast, Devgn is a notch better here than his Golmaal appearances and that's mainly because he stays off body-hugging pink tee-shirts. Dutt is saddled by thankless role that makes him look silly for trying and sillier if he doesn't Far from giving them amusing lines to deliver, Dhawan gets two of Bollywood's worst dancers to shake a leg on Vishal-Shekhar's noise of a soundtrack.

 

Last but not the least; let me draw your attention to the most offensive aspect of Rascals. Its women. Both Kangna and Lisa Haydon are reduced to pea-brained ob-jects of lust with absolutely no self-respect for themselves or their tribe. And so when Dutt equates Kangna's shrill cries to a dog's yelp after someone steps on its tail, you simply nod in agreement.

 

Rediff rating: